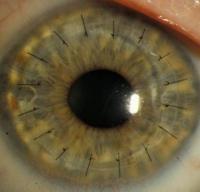 Glaucoma Cases Reduced by Half
Glaucoma is a serious issue faced by millions of people, but the likelihood of the condition has been cut in half, probably due to advances in diagnosis and therapy, a new study says.
Still, researchers also caution that many patients still progress to blindness.
Glaucoma affects more than 2.7 million individuals aged 40 and older in the United States and 60.5 million people.
This study, conducted by a team based at the Mayo Clinic, was the first to evaluate long-term changes in the risk of the disease The researchers reviewed every case (857 cases total) of open-angle glaucoma (OAG) – the most common form of glaucoma – diagnosed from 1965 to 2009 in Olmsted County, Minnesota.
They found that the 20-year probability and the population incidence of blindness due to OAG in at least one eye had decreased from 25.8 percent for subjects diagnosed between 1965 and 1980 to 13.5 percent for those diagnosed between 1981 and 2000. The number of patients who progressed to blindness within 10 years of diagnosis also decreased from 8.7 per 100,000 to 5.5 per 100,000 for those groups, respectively. On the other hand, 15 percent of the patients diagnosed in the more recent time frame still progressed to blindness.
"These results are extremely encouraging for both those suffering from glaucoma and the doctors who care for them, and suggest that the improvements in the diagnosis and treatment have played a key role in improving outcomes," said Arthur J. Sit, M.D., associate professor of ophthalmology at the Mayo Clinic College of Medicine.
"Despite this good news, the rate at which people continue to go blind due to OAG is still unacceptably high. This is likely due to late diagnosis and our incomplete understanding of glaucoma, so it is critical that research into this devastating disease continues, and all eye care providers be vigilant in looking for early signs of glaucoma during routine exams."
The American Academy of Ophthalmology recommends that all adults receive a baseline eye exam by age 40, and for seniors age 65 and older every one to two years or as directed by their ophthalmologist. For more information, visit www.geteyesmart.org or www.ojossanos.org .