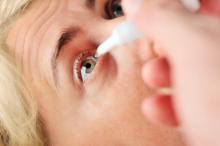 Vision Health
Glaucoma Patients Not Always Using Eye Drops
Electronic monitoring to measure medication adherence by patients with glaucoma documented that a sizable number of patients did not regularly use the eye drops prescribed to them, according to two studies published in May 2014 in JAMA Ophthalmology. The research was led by Michael V. Boland, M.D., Ph.D., of the Wilmer Eye Institute at Johns Hopkins University.
Glaucoma is one of the leading cause of blindness so medication adherence is important.A release from the publisher explains that topical medications for glaucoma lower intraocular pressure and can delay or slow the progression of the eye disease.
Patients who were treated with once-daily prostaglandin eye drops were recruited from a university-based glaucoma clinic. Patients were given a container with an electronic cap in which to store their eye drops. The cap recorded each time the container was opened.
Of the 407 patients who completed the three-month adherence assessment, 337 (82.8 percent) took their medication correctly on at least 75 percent of days. The other 70 patients (17.2 percent) (deemed nonadherent) were less likely to be able to name their glaucoma medication, less likely to agree that remembering to use the medication was easy, and more likely to agree with the sentiment that eye drops can cause problems.
The release quotes the article as saying, "Given that most patients are taking their eye drops as prescribed, identifying patients at risk of nonadherence is a critical step. The results from the patient questions and demographic factors may therefore be useful in creating risk calculators that could find those patients most in need of intervention."