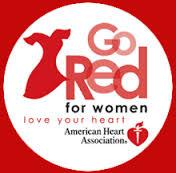 Women's Health
Go Red for Women 2014
In 2003, the American Heart Association and the National Heart, Lung and Blood Institute created National Wear Red Day to raise awareness about the fact that heart disease was claiming the lives of nearly 500,000 American women each year. The event is held annually on the first Friday in February. Today, February 7th 2014, why not wear red to participate in the effort to make sure we realize that, especially as we age and reach postmenopause, heart to heart disease is the No. 1 killer of women?
Here are the strides that have been accomplished in the 11 years since the first National Wear Red Day:
*21 percent fewer women dying from heart disease
*23 percent more women aware that it's their No. 1 health threat
*Publishing of gender-specific results, established differences in symptoms and responses to medications, and women-specific guidelines for prevention and treatment
*Legislation to help end gender disparities
Yet now is not the time for complacency. It's time to stand stronger, speak louder and join in the fight this National Wear Red Day.