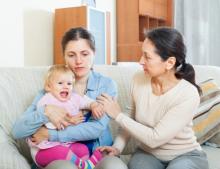 Grandparents Could Be Factor in the "Baby Blues"
For some new mothers, living with baby's grandparents may not be a good thing.
A study by researchers from Duke University indicates that living with the new baby's grandparents either lessens or increases the rate of post-partum depression, depending on the mother's marital status.
Both married and single mothers suffer depression when they live in multi-generational households during their baby's first year of life. But unmarried women who live with their romantic partner in a multi-generational household show lower rates of depression.
The findings were the same for rich, poor and middle class women. There was some variation by ethnic background, however, with Latina single mothers doing poorly in multi-generational households. They were six times likelier to experience depression if they lived in multi-generational households in their child's first year of life than if they did not.
The variance may partly reflect differing expectations and stigmas, said lead author Joy Piontak, a research analyst with the Duke University Center for Child and Family Policy. Married couples, the researchers found, are commonly expected to maintain a separate household. Cohabiting couples don't always have that expectation, previous research has shown.
"There's a strong expectation that married couples will be economically self-sufficient," Piontak said. "Those are strong cultural values. So there could be a stronger sense of failure among married couples if they have to live with their parents."
But Piontak cautioned that causal effects haven't been completely determined. For example, depressed single and married mothers may be less likely to move out from a multi-generational household. Or the quality of relationships within a household could play a part.
The study analyzed statistics from almost 3,000 married, single and cohabiting mothers.
The problem affects millions of people: Eleven percent of all children in the U.S. live in multi-generational families. "We often talk about families in terms of mothers, fathers and children," Piontak said. "Families are often a lot more complex than we imagine them to be, though. And that complexity can affect mothers' well-being."
The findings were published in the Journal of Family Issues.