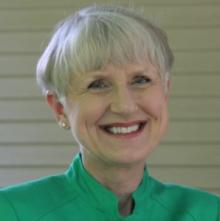 Breast Cancer
Health Close-Up: Stage IV Breast Cancer
There has never been a shortage of excitement in Dian "CJ" M. Corneliussen-James's life. She supported airlift operations for Desert Storm in Iraq, served as the intelligence lead on the Joint Chiefs of Staff for the Somalia Conflict, and coordinated intelligence activities of 11 nations for NATO crisis intervention.  Never a dull moment was an understatement.
At age 53 and newly retired from work as an intelligence officer for the U.S. Air Force, CJ was pleased to get a perfectly clean mammogram. She had always taken good care of herself, paying attention to fitness and diet. Three months later, in August of 2004, she found a lump under her arm while taking a shower. It was quickly discovered that the mammogram had not picked up her stage II breast cancer. Surgery was followed by chemo and radiation. CJ was put on a regimen of medication, continued to work as a private citizen for the government, and took care of her mother, whom she had moved from California to Maryland during a one-week break between chemo and radiation.
That was the beginning of what would turn out to be a diagnosis of metastatic breast cancer, or MBC, an advanced form of breast cancer in which the cancer cells spread from the breast to other parts of the body — most commonly to the lungs, liver, bone, and brain.
In the summer of 2006, after an additional diagnosis of a completely unrelated disease – systemic lupus— CJ began feeling nauseous and losing weight. Doctors discovered that her breast cancer had metastasized to a lung. She had the lobe with the tumor removed and followed up with treatment. She still receives an injection of Faslodex once a month.
"It was shocking," says CJ, "very frightening because stage IV breast cancer is a terminal disease: 97 to 99 percent of patients with MBC will die as a result of their disease." The average survival rate after an MBC diagnosis is 18 to 24 months and the 5 year survival rate is only 15 percent. Having beaten those odds so far, CJ has turned her energy and intelligence skills toward raising awareness of MBC and the dire need for funding for research to improve those statistics.
Upon leaving her job in 2007, one of the first things that was apparent to CJ with her new MBC diagnosis was that there was very little support for those with the disease. "Traditional breast cancer support groups don't really help with MBC. You go and they are talking about breast reconstruction and recovery and life getting back to normal. That is not relevant to me. I started an MBC support group almost immediately."
CJ is now president of METAvivor (http://metavivor.org), a nonprofit based in Annapolis, Maryland, dedicated to providing support for MBC patients, raising awareness of the disease, and funding research toward making MBC survivable. The word "metavivor" combines "vivor" from "survivor" and "meta" from "metastasis." CJ and a group of volunteers "devote our lives to trying to make a difference for everybody with this disease."
Disconcerted to discover that only 5 percent of total cancer research funding goes toward metastatic disease of any cancer type, as reported in the European Journal of Oncology by Jonathan Sleeman and Patricia S. Steeg in May of 2010, CJ and other volunteers are determined to expand funding to 30 percent of the total funds allotted for breast cancer research. That is not an arbitrary number: "We believe that since 30 percent of breast cancer patients metastasize, 30 percent of breast cancer research funds should go toward MBC research." Most breast cancer funding goes toward prevention, early detection, and research toward early-stage breast cancer.
"Research has not focused on stage IV, metastatic breast cancer, because it was considered too difficult a problem to tackle," says CJ. "But over the past 15 years or more there has been a lot of scientific progress. Now researchers believe they could make significant progress across the board, but there is a reluctance for other areas of breast cancer funding to give up their percentage of the pie. We want funds to match the need of metastatic cancer patients." There are 40,000 deaths attributed to MBC each year.
Toward that goal, CJ and METAvivor have teamed with Eisai, a pharmaceutical company, to promote the initiative "The Elephant in the Pink Room." Eisai will donate $1 (up to $25,000) for every visit to, and action taken, on http://MBCaware.org, the home page for the fundraising effort. With no cost to website visitors, it is easy to "like" the site for Facebook, share the image on your FB page, join METAvivor's email list, follow the campaign on Twitter, and Tweet #MBCaware hashtag. You can do it as many times as you like to raise more funds.
Although living on borrowed time, in a sense, CJ's attitude toward life is positive. "You don't look too far ahead or make plans too far in advance but you appreciate each day." Her days are busy with fundraising, providing support and education, as well as with spending time with her husband, mother, and friends. Still never a dull moment in CJ's life.
Visit http://MBCaware.org to make a difference, and http://metavivor.org to learn more about the disease, the support community, and the need for more research for metastatic breast cancer.
Judy Kirkwood provides content for Facebook entries (with a specialty in positive affirmations); writes articles for print and web publications – national, regional, and local; is a contributing writer to Simply the Best magazine in South Florida; and plays on the beach and in the pool year-round. Please visit www.judykirkwood.wix.com/judy-kirkwood.