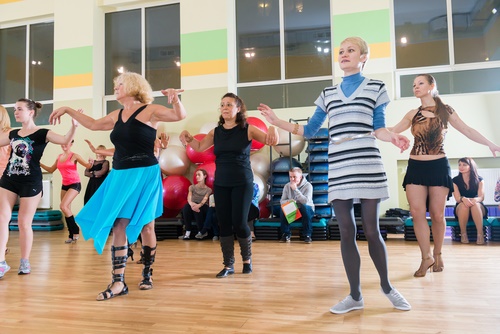 Exercise
Health & Fitness
How I Banish Boredom from My Workouts
At the beginning of the year, I vowed to exercise on a regular basis. While I stayed true to my vision for the first few weeks of January, by the time February rolled around, my motivation began to lag.
Consistency is the key to successful weight loss and a healthy life, so I committed myself to getting my routine back on track. Here are four ways you too can reignite your workouts when your New Year's resolution has taken a hike. (As always, check with your doctor if you're just beginning to exercise, and no matter what your level of fitness, don't give yourself more than you can handle!)
Make it Accessible. I used to belong to a very posh gym offering an incredible array of classes, a pool with heated towels and a juice bar. I loved going – when I could get there. It was a 20-minute subway ride away from my New York City apartment. That made it just too easy to find an excuse not to make the trip. Recently, I joined a no-frills gym – just cardio machines and weights. But it's a 2-minute walk from home. Even when I only have a half hour to spare, I do 25 sweaty minutes on the stationary bike or follow the gym's 30-minute conditioning circuit and my workout is done. Make sure that when you pick a place to work out, you pick one you can easily get to on a consistent basis. Staying on your exercise regimen is the key to optimal health, so you should make it as easy as possible on yourself to actually get to the gym!
Mix It Up. I don't mind getting on the bike or elliptical for a half-hour, but it can get tedious. A spell of monotony can derail my workouts, which means it's time to go for a new routine. Try some dance classes (I love hip-hip cardio, and there are other styles as well). Go for a class that emphasizes strength, toning or flexibility.
A new mode of exercise not only challenges your body, but your brain as well when you attempt to master a new step. You just may discover a new activity that you love. Not sure where to begin? ClassPass is a gym membership alternative that allows you to sample and take classes at numerous boutique gyms and fitness facilities throughout the country.
Get Some Friendly Workout Competition. I have a friend who sends me early morning texts to share that she has completed her hour-long bike ride for the day, or lifted weights. She then asks, "What are you going to do?" Even though I am still half asleep, I start planning when and how I'll get my workout in for the day, if only to be able to write her back. Find a workout buddy who challenges you to stick to your workouts. Encourage a few of your friends to join MyFitnessPal.com, where you can actually track each other's calorie burn online.
Stay Home (And Work Out). Some days it's just impossible to get to the gym. But that doesn't mean my workout should suffer. YouTube offers an endless selection of workout programs that get me sweated, sculpted and stretched out in the comfort of home. POPSUGAR Fitness offers more than 600 online workouts ranging from 5 to 40 minutes that are easy to follow at any age. Also, visit Kathy Smith's website. The 63-year-old fitness dynamo offers tips, videos and personal stories on fighting fat after 50.
Celebrity reporter Delaina Dixon is co-founder and editor-in-chief of DivaGalsDaily.com. An avid fan of fitness at every age, she is a certified group fitness instructor with the Aerobics and Fitness Association of America.