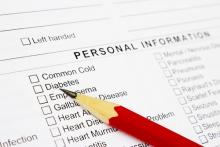 How Private Is Your Mental-Health Information?
Whatever you think of the Affordable Care Act (and there are many different and heated opinions) there's no doubt that it's expanded mental health and substance use disorder benefits and protections to 62 million Americans.
Leon Rodriguez, Director of the Office for Civil Rights, Department of Health and Human Services, wrote in a federal blog that the c hange represents "the largest expansion of behavioral health coverage in a generation and will help make treatment more affordable and accessible."
With this expansion, people seeking mental-health treatment and recovery services should know that they have a right to their health information and the right to keep it private, Rodriguez says. Those rights are protected by a law called the Health Insurance Portability and Accountability Act (HIPAA).
Under this law, mental-health patients, like every other kind of health-care patients, have the right to get their personal health information. You also have the right to make sure it's correct and – what's important to many people, especially those seeking mental-health services – who has seen it.
Having access to your medical records, Rodriguez says, gives you some important advantages. You can make decisions with your health care provider; keep track of your medications; and keep track of your progress.
With mental-health patients, Rodriguez notes, there are some unique circumstances. Although you can get all your records from a therapist, you can't get his or her notes. However, those notes cannot be shared with others without your permission. As a safeguard, they're kept separate from the patient's medical and billing records.
Once you've gotten access to your records, federal experts say, make sure they're correct and complete. Ask your health care professional to fix anything that looks wrote. Check to make sure your medical information is correct and complete. Talk to your physician about changing or correcting anything you think is wrong. He or she may not agree to change it, Rodriguez wrote in his blog, but you have the right to ask. And you can add your disagreement to the health care record.
All patients, including those who are going for any mental-health services, have the right to know how their personal health information is used and shared. (A report on that is called an accounting of disclosures.) There are some cases in which your doctor can share your information; for example, in talking with colleagues about how to best treat a mental-health problem. But your doctors can't give your information to an employer, for example, without your permission. Additionally, if you pay for a service or treatment out of pocket, you can ask your health care provider not to share your information.
Your health care provider may share relevant information if you give your provider or health plan permission; you are present and do not object; or if you are not present, and the provider determines based on professional judgment that it's in your best interest.
No matter how well you know your right, don't just automatically ignore the privacy notice patients customarily receive from their doctor during office visits. Make sure you understand everything, and if you don't, ask.
For more information, visit the U.S Department of Health and Human Services.