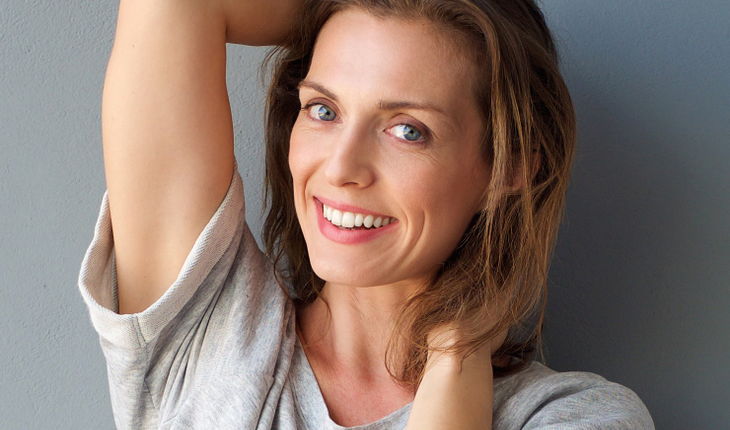 Beauty & Style
Skin Health
How to Get Amazing, Ageless Skin
By Delaina Dixon
I've discovered some amazing skin care products that help me keep my skin clean, clear and ageless. Why not try incorporating some into your daily routine?
GET CLEAN
I know I shouldn't go to bed with makeup on, because last night's look can settle into lines and creases. But who has time to wipe down with makeup remover and then wash with a daily cleanser? That's why I love IMAGE Ageless Total Facial Cleanser. It's a glycolic cleanser that removes makeup and daily debris, exfoliates dead surface cells and balances PH levels, which means no toner too! It's a great base to prep the face for your favorite anti-aging products. I use it for my morning wash, too. Click here to find out more.
ADD SUN CARE
The fastest way to wrinkles is through excess sun exposure. Even though I have dark skin, I make sure to add a little sun protection in my day routine in the form of The Body Deli Solar Day Cream. This moisturizer has micronized zinc oxide, a natural mineral sunscreen equivalent to SPF 15, as well as antioxidants such as vitamin c, CoQ10, tocotrienols and pumpkin seed oil to work against free radical damage. It's great for dry, mature skin and smells delicious! Click here to learn more about it.
CREATE A FLAWLESS FINISH
Once I've prepped my face, it's all about that base. It doesn't get much better than Jay Manuel Beauty Filter Finish Skin Perfector Foundation. This silicone-based liquid makeup has micronized silk and plant-based antioxidants, which means it glides on and creates my optical illusion of perfect skin. It also hydrates, smoothes and evens my skin tone. Best of all, it comes in 12 shades (I'm deep filter 2), so every hue of beauty is covered. For more information, click here.
COMBAT WRINKLES
In the battle of wrinkles, I always want to come out on top. I use a two-power punch: Kiehl's Powerful-Strength Line-Reducing Concentrate and Powerful Wrinkle Reducing Eye Cream. The eye cream has copper, which helps to develop collagen and elastin, and it has calcium, which, some reports say, can have a positive effect on thinning bones when applied topically. The concentrate offers 10.5 percent of  the RDA of vitamin C as well as other antioxidants. I use both at night so while I'm sleeping (which helps you stay youthful overall), they can work their magic. You can find out more about Kiehl's products here.
REGROW YOUR THIN SPOTS
I come from a family of hereditary hair loss, and can speak personally on how losing your hair can take its toll on your psyche. Along with professional cortisone therapy, my doctor advised me to add Women's Rogaine 5% Minoxidil Topical Aerosol to my daily routine. It's the first and only FDA-approved, one-time daily application that's been proven to regrow hair. I've been using it for about three months and definitely see some grow along my hairline, where the loss is most pronounced. Consult your dermatologist to find out if Rogaine can alleviate your personal hair loss.