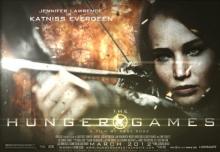 Mental & Emotional Health
"The Hunger Games": What's All The Fuss?
I ignored "The Hunger Games" as long as I could. Even after my 13-year-old granddaughter told me she was reading the books. But when I realized she would be seeing the PG-13 movie with Jennifer Lawrence, I wanted to find out about this Katniss Everdean character.
I went with two friends to the Friday night opening. We arrived at the theater complex to find that even though we were almost an hour early, tickets were sold out to the 9 p.m. show and one of the 9:40 shows. As we were talking, they sold out to the other 9:40 show, so we gave up and bought tickets to "Friends With Kids." Tickets to "The Hunger Games" were $20, anyway, versus a senior ticket to the other movie, which was $7.50.
With lots to do in the complex, we went on in; then we had the sneaky idea to whip into one of the theaters showing "Games" and check it out for a few minutes. The first theater we tried had empty seats in the front row, so we scrambled in, sank down in our seats, and craned our necks up at the huge faces.
It wasn't long before my nerves were so shredded I wanted to jump up in front of the screen and shout THIS IS NOT FOR 13-YEAR-OLDS. I found out later we happened on the most violent scenes in the film. Teenagers were getting slain left and right by other teens. It was not only gruesome on its own, but given the reality of what I read and see on the news, it was too real. I recognized I had seen a minor version of this in "Lord of the Flies" as a teenager myself. But there were too many times I had to wrap my scarf around my head to protect me from terrible images or stuff it in my mouth to keep from screaming. When it was time to go to our movie, my legs were rubbery.
When I got home around midnight, I immediately downloaded "The Hunger Games" to my Kindle for Mac and started reading. That was five days ago. I finished the third book in the trilogy, "Mockingjay," this morning.
My sister, who had also been furiously reading, called when she finished "Mockingjay" the night before when I was on page 1 and told me it was so gut-wrenching she felt like she needed counseling before she could go to sleep. I read it anyway, taking a break only to go back to see the entire "Hunger Games" movie last night.
This time, I didn't scream or hide.
The movie and book are so rich and resonant, while at the same time frightening and shocking, yet with a touch of hope, that I can understand what attracts fans in a way I could not when it came to "Twilight," with its vampires and werewolves. The characters are real. The system that condemns teenagers to fight to the death is too believable.
With all that has been written about the movie, this is no review. I can only say read the book and then see the movie. If you do the reverse, it may be too frightening, as it was for me on first look. And then discuss.
You will recognize references and resonances from The Great Depression, totalitarian governments, George Orwell's "1984," the Romans throwing the Christians to the lions, TV's reality shows like "Survivor," The French Revolution, and so on. Oh, and it will also remind you of what it is like to be a teenager.
I have engaged just about everyone I've run into in a conversation about it in the last week: my neighbors, my family, people in line at Panera, my acupuncturist, and so on. The only person I haven't spoken to yet (haven't gotten hold of her) is my granddaughter.
On a lighter note, this is fun. Click here to find out what your Hunger Game name would be. Mine is Zenobia Lockheart.
Judy Kirkwood just read the three-book trilogy straight through. Do not try this during the week.