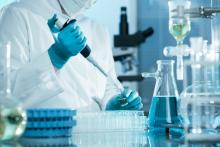 Improving Ultrasound for Cancer Detection
Researchers have made a breakthrough in the use of ultrasound to detect and monitor cancer, and the discovery could provide a safer method than the ones already in use.
Ultrasound has some advantages over other detection and monitoring methods such as X-rays, CT scans and MRIs: It's less expensive and is radiation-free. But it hasn't provided as clear an image as have the other methods.
Now, researchers from the University of North Carolina School of Medicine have overcome that limitation by combining ultrasound with a with a "contrast agent" composed of tiny bubbles.
The bubbles bind to a protein, SFRP2, and that substantially improves the resolution and tumor-detecting ability of scans produced by ultrasound. Investigators Nancy Klauber-Demore, MD, professor of surgery and Paul Dayton, PhD, professor of biomedical engineering, were able to clearly visualize lesions created by angiosarcoma, a malignant cancer that develops on the walls of blood vessels.
The findings were published in the journal PLOS ONE.
Since SFRP2 is found in many cancers – including breast, colon, pancreas, ovarian, and kidney – the technique could potentially be useful on a broad range of cancer types. Klauber-DeMore said her team wants to conduct further research in that area.
In addition to its low cost, ultrasound is more portable than other imaging devices, and could be used in rural and impoverished areas.