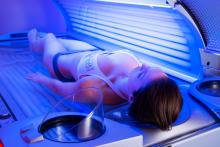 Skin
Skin Health
Indoor Tanning Ups Melanoma Risk
If you or your teenage children or grandchildren believe that getting an indoor tan will prevent burns from outdoor sun exposure, you're courting the deadliest form of skin cancer. That's the finding of researchers at the University of Minnesota who published their study May 29th 2014 in the JNCI: Journal of the National Cancer Institute. The team reports that indoor tanning raises the risk of developing melanoma even if a person has never had burns from either indoor or outdoor tanning.
A release from the publisher explains that to test the hypothesis that indoor tanning without burns prevents sunburn and subsequent skin cancer, the researchers used data from a case-control study on indoor tanning and the risk of melanoma. The team had detailed information on indoor tanning and sun exposure for the study participants and excluded those who experienced a burn while tanning indoors.
A total of 1167 melanoma patients were matched to 1101 control subjects by sex and age. All participants completed a questionnaire and telephone interview. Analyses were adjusted for age, sex, income, education as well as the color of eyes, hair, and skin, and other factors including the number of freckles and moles, family history of melanoma, lifetime sun exposure, and sunscreen use, The researchers found that melanoma patients reporting zero lifetime burns were nearly four times more likely to be indoor tanners than control subjects. In addition, melanoma patients with zero sunburns reported having started tanning indoors at younger ages and used indoor tanning over more years than other patients who had experienced sunburn, suggesting that greater total exposure contributed to the findings.
The authors wrote that their results demonstrate "…that indoor tanning, even when used in a way that does not produce burns, is a risk factor for melanoma."
In related news, the Food and Drug Administration announced on May 29th 2014 that manufacturers of tanning beds would have to put a black box warning on the products saying that no one under the age of 18 should use them.