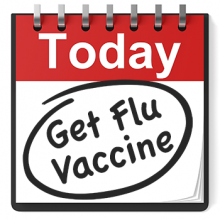 It's Not Too Late to Get Your Flu Shot
According to the Food and Drug Administration, vaccinations can be protective as long as flu viruses are circulating. While seasonal flu outbreaks can happen as early as October, flu activity usually peaks in January or February, and can last well into May.
The FDA plays a key role in ensuring that safe and effective influenza vaccines are available every flu season. In fact, the task of producing a new vaccine for the next flu season starts well before the current flu season ends. According to Marion Gruber, Ph.D., director of FDA's Office of Vaccine Research and Review, there are several reasons that new vaccines must be manufactured each year.
A release from the FDA quotes Gruber as saying, "Influenza viruses can change from year to year, due to different subtypes and strains that circulate each year,"
Each February, before that year's flu season ends, FDA, the World Health Organization, the Centers for Disease Control and Prevention and other public health experts collaborate on collecting and reviewing data from around the world to identify the flu viruses likely to cause the most illnesses in the next flu season. Based on that information and the recommendations of an FDA advisory committee, the agency selects the virus strains for FDA-licensed manufacturers to include in their vaccines for use in the United States.
"The closer the match between the circulating strains causing disease and the virus strains in the vaccine, the better the protection against influenza," Gruber says.
In addition, the FDA inspects the manufacturing facilities on a regular basis, and prepares and provides reagents (necessary test components to standardize vaccines) that vaccine manufacturers need to make their vaccine and to verify its identity and strength. The FDA also evaluates each manufacturer's vaccine each year for approval purposes, conducts lot release (that is, performs certain tests and reviews the results of the manufacturers' tests on each lot of vaccine prior to distribution), and continues to monitor the safety of the vaccines once they are approved for use and in distribution.
FDA and CDC scientists routinely evaluate reports to the Vaccine Adverse Event Reporting System (VAERS) of health problems that may be associated with a vaccine.