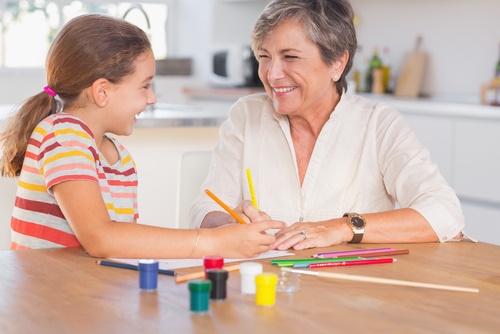 Menopause
Kids Help Ease Menopausal Symptoms
Women enduring the menopausal characteristics of hot flashes and night sweats don't suffer as much if young children live with them, according to new research from The Kinsey Institute and the Fred Hutchinson Cancer Research Center.
Of the 117 women who took part in the study, 69 were menopausal or post-menopausal at the time of their hysterectomy; 29 had at least one young child (defined as under 13 years old) at home. Forty-eight women were premenopausal when they had their ovaries removed, with 28 of them having at least one child at home. The study measured night sweats and hot flashes just before the surgery and then again at two months, six months and 12 months after procedure.
"For women who were menopausal when our study began, those with young children at home actually showed more symptoms of hot flashes," said study author Tierney Lorenz, postdoctoral fellow at The Kinsey Institute at Indiana University Bloomington. "But the women who underwent rapid menopause because of the surgical removal of their ovaries showed a dramatic reduction of symptoms."
Lorenz said the findings pointed to a need for research into the hormone oxytocin, because it may be linked to the results. Oxytocin is associated with nurturing care as well as interactions regulating body temperature. It can also affected mood and sleeping patterns, which can be negatively affected during menopause.
The study was published in Menopause: the Journal of the North American Menopause Society.