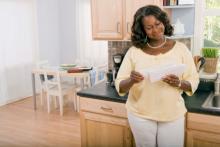 The Letter that Can Make You Healthier
Patients at high risk of osteoporosis can be identified via an automated letter-generating system that encourages them to follow up on their care, according to researchers.
Investigators from the Penn State College of Medicine say that the system effectively promotes osteoporosis intervention and can help prevent future fractures.
In their study, the researchers focused on patients who were at least 50 years old and had fractures; all were seeking help at the emergency department of Penn State's Milton S. Hershey Medical Center. The investigators looked at treatment codes to find fractures that seemed to be caused by bone fragility. They identified 103 patients.
After further eliminating some additional patients who turned out not to meet the criterion of "fragility fractures", the group was sent a letter within three months of their emergency room visit. The letter said that they might be at risk for osteoporosis and encouraged them to make an appointment with a bone health specialist or clinic. Three months after that, the patients got a follow-up call asking them if they had sought treatment.
Another group of 98 patients got no follow-up letter but did get a phone call. The researchers found that among those who got a letter, 60 percent followed up with a bone health visit, or planned to follow up. Only 14 percent of those who got a phone call but no letter said they had followed up or wanted to do so.
"Our almost fully automated osteoporosis system identifies these patients, requires minimal resources — many of which are already currently in U.S. hospitals, but just need to be tapped — and delivers substantially improved osteoporosis intervention results," said Edward Fox, professor of orthopedics.
The findings were published in the journal Geriatric Orthopaedic Surgery & Rehabilitation.