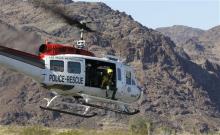 Linking Hospital EHR to Medical Flight Crews
Although trauma, heart, and stroke patients benefit from being transferred from a local hospital to a higher-level care facility via medical air ambulances, patients transferred with non-urgent medical conditions show at least a 30 percent higher death rate than had they stayed put, according to researchers from Case Western Reserve University's nursing school in Cleveland. The team set out to find out why this happens.
A release from the university quotes Andrew Reimer, PhD, RN as saying, "We think the answer is somewhere in the medical records."
However, accessing information in electronic medical records at different hospitals and from the flight crew transporting the patient is difficult because the operating systems organize information differently and don't always speak the same computer language.
Reimer, working with Case Western Reserve engineering and biostatistics experts, is developing technology that overcomes the communication problems and mines information from patient charts. That's critical, Reimer said, because each hospital and the flight crew generate a new patient record.
All three charts must be reviewed for a complete picture of the patient's situation and to determine when to move the patient, what conditions warrant moving, and what might impact the patient's health in the transfer. "Families also need the information to determine what's best for their loved ones—move the patient or stay," Reimer said.
Such information could impact the 400,000 patients nationally transported annually by helicopter, another 150,000 by jet. An unknown number are transported by land.
To mine medical information, such as patient demographics, medical and surgical histories, procedures, laboratory, pharmacy, vital signs, billing data, and patient outcome, is difficult.
Because of the different types of patients transported (neonatal, pediatric and adult), Reimer said the researchers spent considerable time developing a digital template that creates a uniform table with 42 areas of information for consistent data reporting.
The streamlined process now enables researchers or clinicians to identify each necessary piece of data, request the information from the individual EMR in the particular information system and then download that information to a local data warehouse that acts like a collection center on an individual patient.
As more patients have their information stored in the warehouse, researchers and clinicians can begin to track patterns in how patients who are transferred fare, from admitting to discharge.
The researchers report that this can eventually tell them when to move or keep patients where they are. Searching a patient's chart for appropriate health information at a single hospital can take days. But the new interface technologies allow information to be mined from 42 different data points in minutes.
The researchers reported having some success with the Cleveland Clinic Hospital System by linking the flight and hospital information from which patients were transported to the Clinic's 1,300-bed main campus in Cleveland, 10 community hospitals and 14 family health and ambulatory surgery centers in the Clinic's system. They also hope eventually to include the records of approximately 350 patients who are annually transported to the Cleveland Clinic from hospitals outside the system.