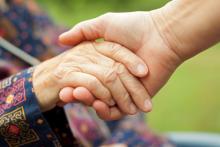 Many Older People Not Getting Help They Need
Eighteen million people – nearly half of all older adults in the U.S. – have difficulty with daily activities or get help with them, new research shows.
Investigators from the University of Michigan and the Urban Institute looked at statistics from a national sample of 8,245 older adults enrolled in Medicare. The subjects took part in the 2011 National Health and Aging Trends Study.
The newest findings were published in the Millbank Memorial Quarterly.
"Although 51 percent reported having no difficulty in the previous month, 29 percent reported receiving help with taking care of themselves or their households or getting around," said UM researcher Vicki Freedman, co-author of the report with the Urban Institute's Brenda Spillman. "And another 20 percent said they had difficulty carrying out these activities on their own."
Of those participants who had help, one in four lived in either a supportive care setting or a nursing home.
The researchers found that severe disability is more common among people with low incomes. They said a disproportionate number of low-income people had assistance with three or more self-care or mobility activities in settings outside nursing homes.
Regardless of their economic status, nearly all older adults had one potential informal care helper such as a family member, a household member or a friend. The average size of the network was four people.
About 70 percent of those getting help received assistance from family, friends, and other unpaid caregivers, while about 30 percent received paid care.
But unmet needs, especially among people getting paid assistance, were significiant. "Among the 18 million who had difficulty or received help, 30 percent had an adverse consequence in the last month related to unmet need," said Spillman. "Among community residents with a paid caregiver, the figure was nearly 60 percent."
The authors said improving long-term care services and supports could help solve the problem of inadequate care and unmet needs.