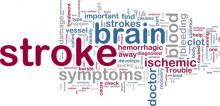 Many Women Don't Know Stroke Symptoms
Although stroke affects millions of American women, many in that group are unaware of the warning signs, according to research conducted by the American Heart Association/American Stroke Association.
In a national phone survey asking 1,205 U.S. women about stroke symptoms, researchers found that only 18 percent of women identified sudden vision loss as a symptom, while 20 percent identified unexplained dizziness. Twenty-three percent identified sudden severe headache; 44 percent identified difficulty speaking or garbled speech; 51 percent identified sudden weakness or numbness on one side of the face, arms or legs.
Hispanic women were less likely than others to know most of the warning signs of a stroke – 25 percent did not know any, compared to 18 percent of whites and 19 percent of blacks, according to the article.
Eighty-four percent of all those questioned they should dial 911 if they thought they were having a stroke.
The researchers said the findings had far-reaching implications.
"This lack of recognition of stroke signs and symptoms could be a significant barrier to reducing death and disability related to stroke in the United States," said Lori Mosca, M.D., M.P.H., Ph.D., principal investigator of the study. "This is critically important because delays in getting care costs lives and hinders functional recovery."
Stroke is the third-leading cause of death for women and the fourth leading cause of overall deaths in the U.S. It also is a leading cause of long-term disability. Stroke risk is greatest among minority racial groups, including blacks and Hispanics, according to the AHA/ASA.
The associations' national campaign to increase stroke awareness urges people to spot and respond to stroke with the acronym F.A.S.T. : Face drooping; Arm weakness; Speech difficulty; Time to call 911.
The research abstract was published in the American Heart Association journal Stroke.