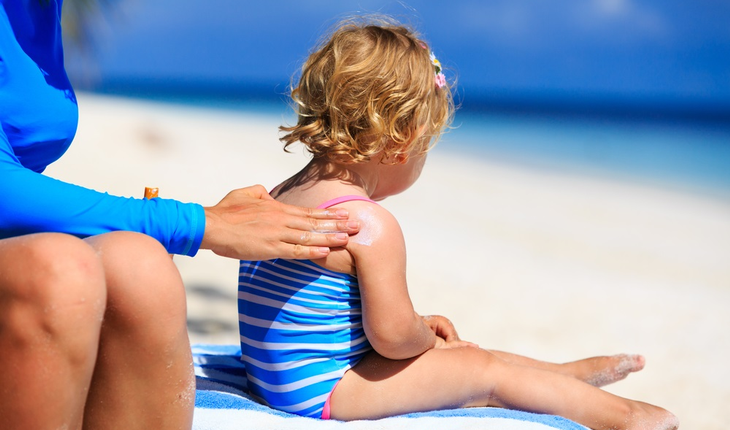 Melanoma
Melanoma in Children
Although we usually think of skin cancer as an adult illness, in fact childhood melanoma is something to be on the lookout for, according to pediatric skin cancer scientists at St. Jude's Children's Research Hospital.
A news release from St. Jude's says there is genetic research showing that sun damage contributes to melanoma in children and adolescents as well as adults.
The research underscores the need for precautionary measures to help avoid extreme sun exposure for children, including the routine prevention measures such as limiting sun exposure and the regular application of sunscreen.

"Don't assume children cannot get skin cancer because of their age,"
said Alberto Pappo, M.D., director of the St. Jude Solid Tumor Division.. "Unlike other cancers, the conventional melanoma that we see mostly in adolescents behaves the same as it does in adults. And although rare, melanoma is the most common type of skin cancer in younger patients and affects mostly teenagers. Children are not immune from extreme sun damage; parents should start sun protection early and make it a habit for life."
Melanoma is the most serious form of skin cancer because it often spreads to other parts of the body. Melanoma gets its name from melanocytes, skin cells that produce a pigment called melanin, which gives skin its color.

Some statistics, according to the news release:
About 76,700 new cases of melanoma are diagnosed in the United States each year.
About 7 percent of cancers in children 15 to 19 years of age are melanomas. Melanoma is most common in people of Caucasian descent, occurring five times more often than in Hispanics and 20 times more often than in African Americans.
Childhood melanoma may not fit into the same routine diagnosis symptoms as adults.
Instead, parents should look for the following:
A mole that changes, grows or doesn't go away
An odd-shaped or large mole
A pale-colored or red bump
A mole or bump that itches or bleeds
For more information on melanoma, see the St. Jude Melanoma Clinic's fact sheet.
St. Jude Children's Research Hospital is leading the way the world understands, treats and cures childhood cancer and other life-threatening diseases. It is the only National Cancer Institute-designated Comprehensive Cancer Center devoted solely to children. Treatments developed at St. Jude have helped push the overall childhood cancer survival rate from 20 percent to 80 percent since the hospital opened more than 50 years ago. St. Jude freely shares the breakthroughs it makes, and every child saved at St. Jude means doctors and scientists worldwide can use that knowledge to save thousands more children. Families never receive a bill from St. Jude for treatment, travel, housing and food — because all a family should worry about is helping their child live. To learn more, visit http://www.stjude.org/.