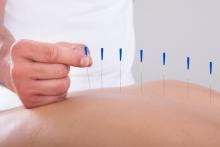 Alternative Health
Needed: A Better Understanding of Chinese Medicine
Although millions of people in the West use Chinese medicine, including acupuncture and herbs, there aren't enough physicians who have Chinese-language training so they can understand the nuances of those methods.
Researchers from UCLA's Center for East-West Medicine say that there are only a few U.S. schools that have Chinese-language training. Additionally, only a few Chinese medical texts have been translated into English.
But because of the complexity of language and concepts in Chinese medical texts, there's a need for high-quality translations, the researchers said. To make up for that lack, the Center published a document that includes an in-depth discussion of the issues involved in Chinese medical translation.
The team said the guide, aimed at students, practitioners, researchers, publishers and translators, is designed to evaluate Chinese medical texts with greater sensitivity and comprehension.
The analysis was published in the Journal of Integrative Medicine.