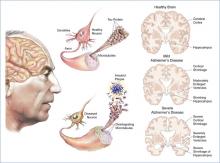 The New Challenges of Alzheimer's
The growing incidence of Alzheimer's raises many question beyond diagnosis and, eventually treatment. As a society, we also need to think about the ethical and policy choices we are faced with, an expert says.
"Unlike other diseases of aging…such as a stroke, heart attack or hip fracture, society has not prepared or adjusted for someone to be labeled as 'likely to have Alzheimer's disease dementia' at some time in the future," said notes Jason Karlawish, MD, professor of Medicine, Medical Ethics and Health Policy at the University of Pennsylvania's Perelman School of Medicine.
One in three seniors dies with Alzheimer's or another dementia, and more than 15 million family and friends serve as caregivers, making Alzheimer's the most expensive condition in the United States. Progress in diagnostics and preventive treatment, in the coming years, expand the diagnosis to include persons who are asymptomatic but at risk of developing dementia caused by Alzheimer's disease.
In the April issue of Health Affairs, which is focused on Alzheimer's, Karlawish made these points:
*Legal, banking and financial service providers should be able to assess an individual's decision-making ability. Even at mild and moderate stages of the disease, patients often believe they are more capable of good decisions than they actually are.
*Caregivers of Alzheimer's patients should be offered or even prescribed to attend caregiver training.
*Electronic Medical Records (EMRs) should be modified to provide access to caregivers.
*Hospice care should begin earlier, so patients can be treated with the maximum efficacy, as opposed to waiting until the last six months of life as currently required for insurance coverage.
*Legal reforms are needed to minimize discrimination in employment and insurability as people are deemed at risk in pre-clinical stages.
"Whether as patients or as caregivers, we all have Alzheimer's disease," says Karlawish. "The question we must engage with is, how should we live with it?"