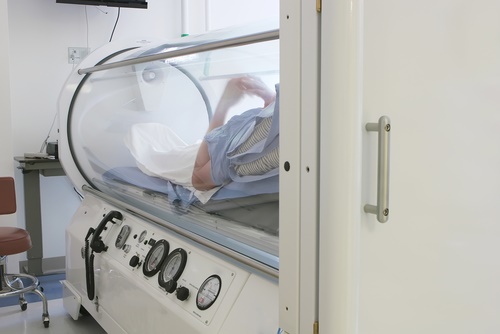 Pain Management
A New Treatment for Fibromyalgia?
Women who have fibromyalgia appear to benefit from treatment in a hyperbaric oxygen chamber, according to researchers at Rice University and institutes in Israel.
The painful condition improved in every one of the 48 women who completed two months of hyperbaric oxygen therapy, the researchers said.  Brain scans of the women before and after treatment supported the theory that the syndrome may be caused by abnormal conditions in pain-related areas of the brain.
Results of the study appear in the open-access journal PLOS ONE.
Fibromyalgia is a chronic pain syndrome that can be accompanied by – and perhaps related to – other physical and mental conditions that include fatigue, cognitive impairment, irritable bowel syndrome and sleep disturbance.
More than 90 percent of those diagnosed with the syndrome are women, said lead study author Eshel Ben-Jacob, who developed the analytical method used to show the association between patients' improvement and changes in their brains. He is an adjunct professor of biosciences at Rice University, a senior investigator at Rice's Center for Theoretical Biological Physics and a professor of physics and member of the Sagol School of Neuroscience at Tel Aviv University.
"Symptoms in about 70 percent of the women who took part have to do with the interpretation of pain in their brains," Ben-Jacob said. "They're the ones who showed the most improvement with hyperbaric oxygen treatment. We found significant changes in their brain activity."
Hyperbaric oxygen chambers expose patients to pure oxygen at higher-than-atmospheric pressures. They are usually employed to treat patients with embolisms, burns, carbon monoxide poisoning and decompression sickness (known to divers as "the bends"), among many other conditions.
One effect of exposure is to push more oxygen into a patient's bloodstream, which delivers it to the brain. Efrati's earlier trials found hyperbaric oxygen chamber treatment induces neuroplasticity that leads to repair of chronically impaired brain functions and improved quality of life for post-stroke and mild traumatic brain injury patients, even years after the initial injury.
Efrati said some patients will likely require follow-up sessions. "The abnormalities in brain regions responsible for the chronic pain sensation in fibromyalgia patients can be triggered by different events," he said. "Accordingly, the long-term response may be different.  We have learned, for example, that when fibromyalgia is triggered by traumatic brain injury, we can expect complete resolution without any need for further treatment. However, when the trigger is attributed to other causes, such as fever-related diseases, patients will probably need periodic maintenance therapy."