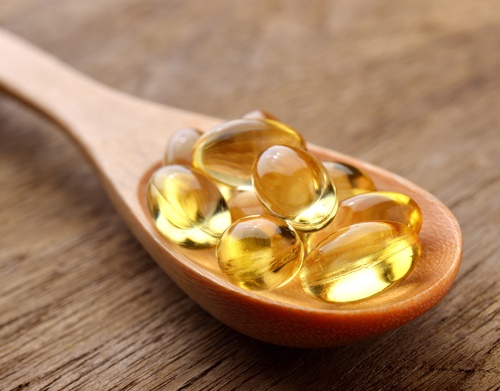 Alzheimer's Disease and other Dementias
Vitamins + Supplements
Omega-3s Don't Benefit Brain Health
Omega-3 fatty acids, touted as an aid to brain health, don't slow cognitive decline, according to a large trial conducted by researchers at the National Institutes of Health.
The study, which followed 4,000 patients over a five-year period, was published in the Journal of the American Medical Association.
"Contrary to popular belief, we didn't see any benefit of omega-3 supplements for stopping cognitive decline," said Emily Chew, M.D., deputy director of the Division of Epidemiology and Clinical Applications and deputy clinical director at the National Eye Institute (NEI), part of NIH.
Chew leads the Age-Related Eye Disease Study (AREDS), which was designed to investigate a combination of nutritional supplements for slowing age-related macular degeneration (AMD), a major cause of vision loss among older Americans. That study established that daily high doses of certain antioxidants and minerals—called the AREDS formulation—can help slow the progression to advanced AMD.
A later study, called AREDS2, tested the addition of omega-3 fatty acids to the AREDS formula. But the omega-3's made no difference. Omega-3 fatty acids are made by marine algae and are concentrated in fish oils; they are believed to be responsible for the health benefits associated with regularly eating fish, such as salmon, tuna, and halibut. (Other omega-3 fatty acids are found in plant foods such as flaxseed, walnuts, soy products, and canola and soybean oils. Specific omega-3 fatty acids from these sources were not studied.)
Where studies have surveyed people on their dietary habits and health, they've found that regular consumption of fish is associated with lower rates of AMD, cardiovascular disease, and possibly dementia. "We've seen data that eating foods with omega-3 may have a benefit for eye, brain, and heart health," Dr. Chew explained.
Omega-3 supplements are available over the counter and often labeled as supporting brain health. A large 2011 study found that omega-3 supplements did not improve the brain health of older patients with preexisting heart disease.
Participants were given cognitive function tests at the beginning of the study to establish a baseline, then at two and four years later. The tests, all validated and used in previous cognitive function studies, included eight parts designed to test immediate and delayed recall, attention and memory, and processing speed. The cognition scores of each subgroup decreased to a similar extent over time, indicating that no combination of nutritional supplements made a difference.