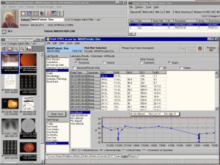 Patients Are Helping Doctors Do Research
Patients' participation in health-care research is becoming more active thanks to "big data" research projects that use many people to provide real-time information on symptoms, side effects and results.
An analysis published in the journal Health Affairs said that new technologies such as electronic health records and monitoring devices are playing an increasing part in major studies.
Researchers from the Duke University School of Medicine said the new practices will be especially effective in studies that aim to find out what therapies work best in routine clinical practice. And that can provide improvement in a patient's short-term care as well as additional research material.
Another advantage is that the new methods provide researchers with information from a much bigger and more diverse patient population.
"When linked to the rest of the available electronic data, patient-generated health data completes the big data picture of real people's needs, life beyond the health care system, and how changes in health and health care lead to meaningful changes in people's lives," said senior author Amy Abernethy, M.D., Ph.D., professor of medicine and director of the Center for Learning Health Care at Duke.