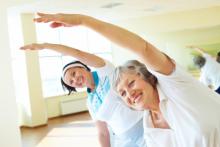 Exercise
People Underestimate Intensity of Exercise
If you think you're exercising enough, you just might be mistaken, a new study shows.
The investigation, by researchers from York University in Toronto, found that many people over-estimate the effort required to work out at a moderate intensity level.
"Our study findings suggest that the majority of young and middle-aged to old adults underestimate the intensity of physical activity that is required to achieve health benefits," said Professor Jennifer Kuk, School of Kinesiology and Health Science. "This is worrisome both for personal and public health and well-being."
In their study, the researchers analyzed the responses of 129 sedentary adults age 18 to 64. No matter what their gender, ethnicity or weight, the participants correctly estimated light-intensity exercise but underestimated moderate and vigorous exercise even after being given exercise intensity descriptions.
"We instructed volunteers to walk or jog on the treadmill at a speed which they felt corresponded to the 'light,' 'moderate' and 'vigorous' intensity descriptors used in the physical activity guide, yet they underestimated how hard they should be working to achieve moderate and vigorous intensity," said lead researcher and graduate student Karissa Canning.
The federal agency Health Canada and worldwide guidelines for intensity of exercise recommend that people age 18 to 65 should participate in two and a half hours of moderate to vigorous physical activity per week. The exercise should be 10 minutes or longer.
For adults to achieve a moderate intensity, their heart rates should be within the range of 64 to 76 per cent of their maximum heart rate and between 77 to 83 per cent for vigorous intensity.
Previous research has shown that the guidelines are beneficial, but this latest study indicates that people may not understand them, Canning said.
The findings were published in the journal PLOS One.