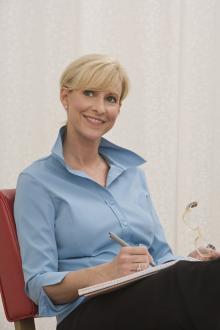 Divorce
The Post-Divorce Valentine's Day
Who dreads Valentine's Day more than single women with no romantic interest in their lives? Recently divorced women.
But there is hope for a new kind of Valentine's celebration. On a day when "I love you, darling" is shoved down our throats, maybe we should be expressing our gratitude to those who stuck by us through the valley of depression, or making the day special for our children or grandchildren.
"This is a chance to embrace love – but to diversify the definition," says Dr. Ramani Durvasula, professor of psychology and 
frequent media contributor. "It could 
be a day to bring together your tribe – children, friends, family – and celebrate with whomever infuses your life with love on a daily basis."
This is also a great 
day to put out intentions, adds Dr. Ramani.  "About six weeks ago most of us made New Year's resolutions;  perhaps VDay can be a day for making resolutions for self-love – list out the classes you want to take, trips you hope to take,
dreams you want to pursue, restaurants to try, recipes to cook, etc. Dating yourself, planning a life around 
yourself, is the ultimate expression of love."
Saideh Browne of the Browne Center for Success and Wellness in Hoboken, NJ, who has been married for 20 years, has a wonderful idea: "I have two clients who divorced within the past three months and one who recently filed for separation. I have decided to host a Dream Board party [where participants map out their vision for the future] for the women to enjoy the company of others who truly love them and celebrate the 
splendor of their lives. I honor marriage, but I honor myself more and my message for 
the women the night of our party will be to celebrate life and their role 
in it." Bravo!
Trish McDermott, a social dating expert and spokesperson, says Valentine's Day is about love of all types, not just romantic love. "Don't feel sorry for yourself. Celebrate the love you do have in your life! Take your elderly mom out to dinner. Call your daughter in college just to tell her you love her. Visit your widowed brother and his kids with a big heart cake. Bring some yummy treats down to a homeless shelter."
"Valentine's Day is not the day single people should be at singles events, setting up dates, or trying to find someone to love," she adds. "That rings of desperation. Honoring the love you are lucky enough to already have in your life, and being loving to others–even strangers–with no expectation of anything in return, that's a beautiful thing!"
Judy Kirkwood made Smilebox Valentine's messages for her granddaughters that she posted on Facebook.
Judy Kirkwood writes articles for print and web publications – national, regional, and local; is a contributing writer to Simply the Best and Boca Raton Observer magazines in South Florida; and plays on the beach and in the pool year-round. Visit her on Facebook @JudysFlorida and please visit www.JudysFlorida.com.