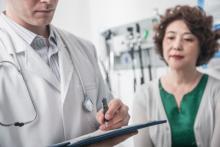 Women's Health
Preventive Surgery Can Have Serious After-Effects
Women with the cancer-causing BRCA1 and BRCA2 gene mutations have a number of serious issues that need to be monitored following preventive surgery, researchers say.
A study from the University of Pennsylvania examined the after-effects of a preventive hysterectomy – known as risk-reducing salpingo-oopherectomy (RRSO). The investigation found that following the surgery, most women suffer sexual dysfunction, menopausal symptoms, cognitive and stress issues, and poor sleep.
The findings, presented during the annual meeting of the American Society of Clinical Oncology, reaffirm the need for a more complete understanding of the post-surgical issues.
"Removal of the Fallopian tubes and ovaries is associated with a decreased risk of death from breast and ovarian cancer for BRCA carriers, and is one of the most important interventions we have at the current time. However, this procedure comes with a price, so it's extremely important that clinicians work with women to help alleviate symptoms," said lead author Susan Domchek, MD, director of Penn's Basser Research Center for BRCA.
In their analysis, investigators surveyed 637 women with BRCA1 or BRCA2 mutations who had undergone the risk-reducing surgical procedure. Through a series of questionnaires, Domchek and colleagues evaluated the patients' quality of life.
The majority of patients scored low on the questions. Seventy-three percent said they had sexual dysfunction, 61 percent said they had trouble sleeping; 57 percent had had hot flashes and vaginal dryness; and 56 percent reported elevated levels of stress.
However, the investigators found that hormone replacement therapy (HRT) did help mitigate symptoms, particularly in women undergoing oophorectomy prior to age 50.
Current guidelines recommend that women with the BRCA1/2 mutation undergo oophorectomy between ages 35-40.
Domchek emphasized that given the negative effects of RRSO, research should focus on "other options for prevention."