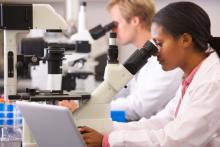 Progress in Fighting Tough Tumors
Spanish researchers have found the strongest proof yet that inhibition of a gene could be used to fight cancerous tumors.
Research led by the Vall d'Hebron Institute of Oncology (VHIO), Barcelona, found that the inhibiting mutations of the Myc gene could be accomplished via the drug Omomyc. That inhibitor was designed by Laura Soucek, Principal Investigator of VHIO´s Mouse Models of Cancer Therapies Group.
The findings were published in the journal Nature Communications.
Earlier research by the same investigators succeeded in eradicating lung tumors; this latest experiment proved the efficacy of Omomyc in fighting other kinds of tumors as well. In this study, the researchers transferred human cells to mice, and the success of the tumor inhibition in that case indicates that Omomyc can work for humans as well.
One of the most important conclusions reached by the group showed that there were no side effects after Myc was administered, and after long-term treatment.
Further research is needed to find out how Omomyc can be administered as a drug outside of a laboratory environment.