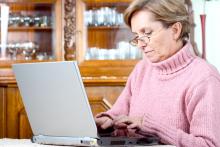 Refilling Prescriptions Online Can Help Your Health
Using an online service to refill medications actually helped some people with their health, according to a new study.
Researchers from Kaiser Permanente and the University of California, San Francisco Medical School followed 17,760 diabetic patients who got care from Kaisesr Permanente in northern California between 2006 and 2010.
The subjects used online patient portals, which allow users to order prescription refills, communicate with their health care providers, schedule appointments, access their health records and view their lab test results
The investigators said that as a result of using the portals, medication non-adherence and even poorly controlled cholesterol declined by 6 percent among exclusive users of the online refill function. "Medication adherence and other health behaviors are often the hardest things for healthcare providers to influence," said senior author Andrew J. Karter, PhD, research scientist at the Kaiser Permanente Division of Research in Oakland, Calif. "Our study showed that when patients used online prescription refills, it can improve adherence and health outcomes."
The subjects were divided into three groups based on their use of the portal to order refills of their cholesterol-lowering medications: the control group included those who never used the online refill function; "occasional users," who requested medication refills through the Kaiser Permanente patient portal at least once, and "exclusive users" who requested all of their refills through the patient portal. The cholesterol-lowering medications studied are widely prescribed for patients with diabetes.
"This research is an important step in understanding the benefits of portals beyond convenience," said lead author Urmimala Sarkar, MD, an assistant professor at the University of California San Francisco. "Given the clear connection between medication adherence and improved health outcomes, this study provides new insight into how online health portals may improve health outcomes.