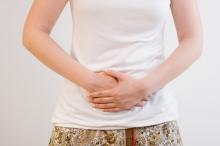 The Right Treatment for Irritable Bowel Syndrome
Irritable Bowel Syndrome affects an estimated 3 to 20 percent of the population, according to the federal National Digestive Diseases Information Clearinghouse (NDDIC). According to the NDDIC, IBS is a collection of symptoms, not a condition. It's been known by a number of other names in the past, including colitis and spastic colon.
Because IBS isn't governed by a single symptom – patients can have either constipation, diarrhea or both – diagnosis can be difficult. But one way to tell is via the rate of incidence. According to the NDDIC, an IBS diagnosis requires that symptoms start at least 6 months prior and occurred at least three times a month for the previous 3 months.
Symptoms include:
Diarrhea
Constipation
Abdominal pain, bloating or cramping
Gas
Mucus in the stool
No one remedy is effective for all patients, so the federal Food and Drug Administration (FDA) says it's working to bring new treatments to the public, according to Andrew Mulberg, M.D., a gastroenterologist with the FDA is working to bring more treatments to the market.
The FDA recently approved Linzess (linaclotide) to treat some adults who suffer from IBS with constipation and for chronic idiopathic constipation. ( "Idiopathic" means that the cause cannot be determined.) The diagnosis of chronic idiopathic constipation is given to those who experience persistent constipation and do not respond to standard treatment. According to the National Institutes of Health, about 63 million people have chronic constipation.
The FDA has also approved Amitiza (lubiprostone) for IBS with constipation and Lotronex (alosetron) for IBS with diarrhea.
In addition, the FDA says, there is also research being done on possible causes. "There's a lot of new research about the role of carbohydrates, and specifically a nutrient called polyols, in triggering irritable bowel syndrome in some patients," Mulberg said in an FDA consumer update. "In addition, doctors, scientists and researchers are more closely examining the role of diet in IBS causes and treatments."
Additionally, Mulberg says, depression, anxiety and other psychological problems are common in people with IBS.
"Some people suffer from depression and IBS. The question is what's primary or secondary – what came first?" he says. "Either way, antidepressants are not a cure for IBS."
Treatments for IBS vary according to the patient, the FDA says. They include changes in diet, nutrition and exercise. (Certain foods and drinks can trigger IBS symptomsThe most common are foods rich in carbohydrates, spicy or fatty foods, milk products, coffee, alcohol and caffeine.) Some patients need stool softeners to treat constipation; others need antidiarrheal drugs to treat diarrhea.
"IBS is not like other chronic conditions, such as hypertension, which is constant. IBS is a variable condition. Even without treatment, the problem might go away in some patients. But the symptoms might return after a few months," says Ruyi He, M.D., an internist and medical team leader with the FDA.
But He adds that drugs are "a last option. Patients should try diet and lifestyle changes, especially exercise, before resorting to medication."
To keep up with the FDA's work, visit the agency's Consumer Updates page.