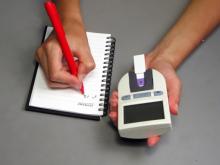 Safe Traveling with Diabetes
Getting out of your routine is part of the fun of vacation and traveling. But don't forget your medications and your care routine, especially if you have diabetes, the Centers for Disease Control (CDC) says.
Experts at the federal agency, part of the National Institutes of health, say that travel factors such as meals away from home, a change in physical activity, and different time zones can affect your management of your conditions.
That's why it's crucial to plan for everything from changes in your daily activities to making sure you get your medication. Here, some tips from the CDC to consider before you leave home:
Don't Forget Your Medication
Give yourself a buffer in case travel delays or other circumstances make your vacation longer. Take twice as much supplies as you need, the CDC says.
Keep snacks, tablets or glucose gels with you at all times.
Have all your information on hand, including your health insurance cards and emergency phone numbers. You should have your doctor's name and phone number as well.
Remember time zone changes, since that affects when you take your medication.
If you use insulin, pack a glucagon emergency kit.
Have all syringes and insulin delivery systems (including vials of insulin) clearly marked with the preprinted label pharmacy that identifies the medications. Keep it in the original packaging. You should also have copies of your prescriptions.
Find out ahead of time where you can get medical care while away from home.
On the Road
Move around every hour or two to reduce the chance of blood clots.
Take a small cooler of snacks that could be difficult to find, including fresh fruit and sliced raw vegetables. You can also take dried fruit, nuts, and seeds as snacks. Measure out ¼ cup servings ahead of time, because these foods are usually high in calories. Bring some water instead of sugary soda or juice.
If you're traveling with insulin, don't store it in direct sunlight or in a hot car. Keep it in a cooler, but do not place it directly on ice or on a gel pack.
If you're flying and don't want to walk through the metal detector with your insulin pump, tell a security officer that you are wearing an insulin pump and ask them to inspect the pump and do a security pat-down.
Place all diabetes supplies in carry-on luggage. Keep medications and snacks at your seat for easy access. Don't store them in overhead bins or checked luggage.
If a meal will be served during your flight, call ahead for a diabetic, low fat, or low cholesterol meal. Wait until your food is about to be served before you take your insulin.
If the airline doesn't offer a special meal, bring a nutritious meal yourself.
When drawing up your dose of insulin, don't inject air into the bottle (the air on your plane will probably be pressurized).
Changes in what you eat, activity levels and time zones can affect your blood glucose. Check levels often. Talk with your doctor before increasing physical activity; for example, if you'll be going on a trip that involves more walking than you usually do.
Stick with your exercise routine. Ideally, you'll be getting 150 minutes or more of activity each week.
Be sure to get at least 150 minutes of physical activity each week.
Protect yourself by washing hands often with soap and water.
Wash your hands often with soap and water.
Don't expose your feet to injury. Never go barefoot and be especially careful of hot sand and pavement.
Make sure you are up-to-date on immunizations.
For more information, visit the CDC's site, www.cdc.gov.