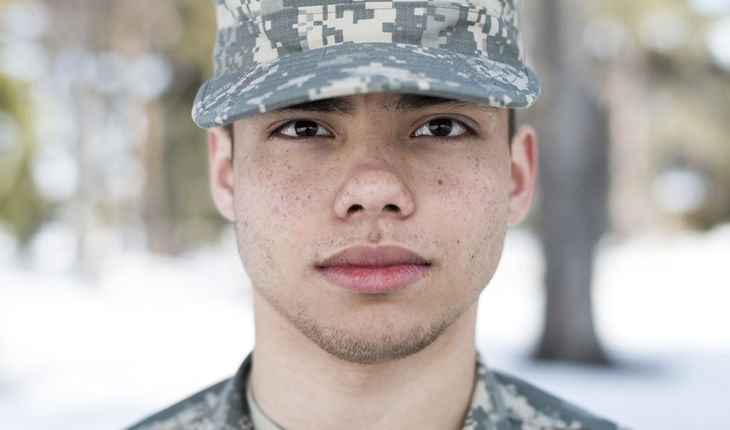 Skin cancer
Skin Cancer More Prevalent among U.S. Military Personnel
U.S. military personnel are likelier to develop skin cancer than the general population, according to research published in the Journal of the American Academy of Dermatology.
A review of nine published studies indicates that both active duty service members and veterans have an increased risk of developing skin cancer, including melanoma, the deadliest form of skin cancer. According to the authors, the military's demographics include two groups known to have high rates of skin cancer: Caucasians and men over 50. Additionally, military personnel are often exposed to high levels of ultraviolet radiation, which can increase one's risk for both melanoma and nonmelanoma skin cancer.
"From the Pacific Theater in World War II to more recent campaigns in Iraq and Afghanistan, U.S. military members have been deployed to areas where they face prolonged exposure to the sun's harmful UV rays," says board-certified dermatologist Jennifer G. Powers, MD, FAAD, one of the authors of the JAAD article. "This exposure is even more intense for those serving in desert environments because the sun's rays reflect off sand."
As the JAAD review and an accompanying commentary indicate, the risk of skin cancer among military personnel is further compounded because sun protection is not a priority among active duty service members. And for many soldiers, skin cancer prevention strategies — like wearing protective clothing that is not part of their uniform, or carrying and applying sunscreen — are simply not feasible during deployment.
"U.S. military personnel face a unique set of skin cancer risk factors," says Oliver J. Wisco, DO, FAAD, one of the authors of the commentary. "While they may not be able to take steps to reduce their risk during their deployment, they can take steps to detect skin cancer early, when it's most treatable."
The American Academy of Dermatology encourages everyone to perform regular self-exams to check themselves for signs of skin cancer, asking a partner to help them examine hard-to-see areas like their back. Those who notice any new or suspicious spots on their skin, or any spots that are changing, itching or bleeding should see a board-certified dermatologis
"During Skin Cancer Awareness Month in May, the AAD is recognizing Skin Cancer Heroes, and that of course includes the heroes of the U.S. military," says board-certified dermatologist Suzanne M. Olbricht, MD, FAAD, president of the AAD. "We encourage our soldiers and veterans to be aware of their increased skin cancer risk and be their own Skin Cancer Heroes by regularly examining their skin for suspicious spots."
For more information on skin cancer detection and prevention, visit the AAD website http://www.spotskincancer.org/. There, you can also find instructions on how to perform a skin self-exam, download a body mole map for tracking changes in your skin and find free SPOTme® skin cancer screenings in your area. SPOT Skin Cancer™ is the AAD's campaign to create a world without skin cancer through public awareness, community outreach programs and services, and advocacy that promote the prevention, detection and care of skin cancer.
About the AAD
Headquartered in Rosemont, Ill., the American Academy of Dermatology, founded in 1938, is the largest, most influential and most representative of all dermatologic associations. With a membership of more than 19,000 physicians worldwide, the AAD is committed to advancing the diagnosis and medical, surgical and cosmetic treatment of the skin, hair and nails; advocating high standards in clinical practice, education and research in dermatology; and supporting and enhancing patient care for a lifetime of healthier skin, hair and nails. For more information, contact the AAD at (888) 462-DERM (3376) or www.aad.org.