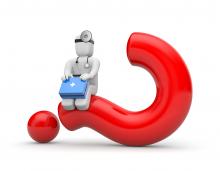 Solve the Medical Riddle: "What's Wrong with Me?"
Editor's note: Welcome to our ThirdAge feature that gives you a chance to play medical sleuth as we share the details of what happened when a patient presented with a problem that stumped the physician at first.
Last week, the patient reported her symptoms and the doctor proceeded with the examination. That was step #1, S, of the classic S-O-A-P notes as follows:
S=Symptoms or Chief Complaint
O=Objective Findings
A=Assessment or Analysis
P=Treatment Plan or Recommendations
This week the doctor will move on to O and A in order to continue to look for clues to the medical riddle. The third week, we'll let you know what some people have suggested as possible diagnoses. The fourth week, the doctor will move on to P to reveal the actual diagnosis as well as outline treatment options and lifestyle recommendations. Then we'll begin a new riddle for the following month!
The Doctor Looks for Clues to the Medical Riddle
O=Objective Findings
Last week, the doctor asked Sally to make an appointment for the following week so the evaluation could continue. The doctor instructed Sally to fast, meaning not to have any food or beverages except water for eight hours prior to the appointment.
When Sally arrived this week, a nurse explained how to get a "clean catch" for a urine sample that would be sent to a lab for urinalysis. When that was completed, the nurse took Sally to the examining room and drew a blood sample to send to the lab for analysis for "fasting glucose" as well as a complete blood count, blood chemistries including calcium level, "sed rate" or erythrocyte sedimentation rate (ESR) that can suggest inflammation, and tests for celiac disease, thyroid problems, and a number of other problems.
After the nurse left, the doctor came in and did a rectal exam to check for blood in the stool, hemorrhoids, and impaction of stool. As she had expected given the complaint of chronic constipation, she did find some impaction (should we say : "found a lot of hard stool in the rectum" as Impaction suggests may be even a blockage? as well as internal hemorrhoids. These are varicose veins of the rectum that can result from straining to have a bowel movement and sitting too long on the toilet.
There was no detectable blood in the stool but the doctor explained how Sally should collect a stool sample three bowel movements in a row that would be sent to a lab to be checked for occult, or hidden, blood that might indicate a serious problem such as colon cancer. However, when a patient has infrequent bowel movements, she not be able to collect three in a row for quite some time. The doctor told Sally not to worry if this happens and to wait to collect the samples until the constipation issue has been resolved.
The doctor didn't refer Sally to a specialist in digestive disorders called a gastroenterologist because at this point the doctor suspected a "functional diagnosis", meaning that the evaluation thus far had not turned up any organic cause for the constipation. An organic disease involves the body's organs.
The doctor promised to let Sally know the results of the tests as soon as they came back from the lab.
A=Assessment or Analysis
The laboratory test results all came back normal, confirming the doctor's opinion that there was no organic cause for Sally' complaint. That, coupled with the negative result of Sally's colonoscopy at age 50 and lack of family history of colon cancer or polyps, further solidified the doctor's belief that Sally had a functional problem due to lifestyle issues.
The doctor was ready to make her diagnosis. However, she let Sally know that if the treatment plan did not prove to be effective, then a referral to a gastroenterologist would be warranted. The specialist would do a further exploration regarding colon transit times, perform another colonoscopy, and possibly use a diagnostic technique called scintigraphy in which a two-dimensional picture of internal body tissue is created.
Yet since the doctor strongly suspected that the diagnosis would be related to Sally's lifestyle, the doctor felt she could safely begin treatment without referring Sally to a specialist.
To be continued . . .
Come back to ThirdAge.com next Thursday to find out what some people have guessed the diagnosis might be.
Marie Savard, M.D., a former Medical Contributor for ABC News and a frequent keynote speaker around the world, is one of the most trusted voices on women's health, wellness, and patient empowerment. She is the author of four books, including one that made the Wall Street Journal list of the best health books of 2009: "Ask Dr. Marie: What Women Need to Know about Hormones, Libido, and the Medical Problems No One Talks About." Dr. Marie earned a B.S. in Nursing and an M.D. degree at the University of Pennsylvania. She has served as Director of the Center for Women's Health at the Medical College of Pennsylvania, technical advisor to the United Nations' Fourth World Conference on Women in Beijing, advisor to the American Board of Internal Medicine Subcommittee on Clinical Competency in Women's Health, health columnist for Woman's Day magazine, and senior medical consultant to Lifetime Television's Strong Medicine. Pleas visit DrSavard.com
To read the archive with all of our "What's Wrong with Me?" features, click here.