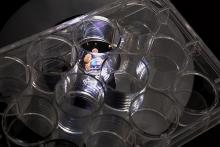 Solving The Lithium Problem
A safer form of lithium is on the horizon, researchers say.
The drug, one of the most widely used to treat bipolar disorder, has a serious drawback of toxicity.
But investigators from the University of South Florida discovered that an oral variation, lithium salicylate, maintains steady levels of the drug for up to 48 hours without the toxic "spike" that happens with the rapid absorption of FDA-approved lithium carbonate.
Their study results appear in RSC Advances, the journal of the Royal Society of Chemistry.
Lithium carbonate is effective, but patients also resist taking it because of side effects such as hand tremors, diarrhea, vomiting and weight gain.
"Despite its narrow therapeutic window and the emergence of proprietary alternatives, U.S. FDA-approved lithium therapeutics are still regarded as the 'gold standard' for the treatment of the manic phase of bipolar disorder," said study lead author Adam J. Smith, PhD, a neuroscientist at the Center of Excellence for Aging and Brain Repair, Department of Neurosurgery, at USF Health.
"Our previous research suggested that re-engineering lithium therapeutics…might produce better performance with reduced toxicities."
In their study, the researchers evaluated two previously untested salts of lithium — salicylate and lactate. When used on lab rats, the investigators found, lithium salicylate and lithium lactate exhibited "profoundly different pharmacokinetics" when compared to lithium carbonate. Pharmacokinetics is the way the body absorbs, distributes and gets rid of a drug.
"To our knowledge, this is the first pharmacokinetic study of lithium salicylate and lithium lactate in laboratory animals," Smith said.
The findings seem to back up earlier suggestions that an ideal lithium preparation would both "flatten" high blood level peaks and also slow declining blood concentrations. "This is exactly the pharmacokinetic profile produced by lithium salicylate in our study," said senior author Doug Shytle, PhD, of the Center of Excellence for Aging and Brain Repair at USF Health. "Remarkably, lithium salicylate produced elevated levels of lithium in the blood and brain 48 hours after the dose, but without the sharp peaks that contribute to the toxicity problems of lithium in the currently used form."
If the findings hold true in humans, they would allow for a less frequent dosing schedule and possibly fewer side effects than lithium carbonate.