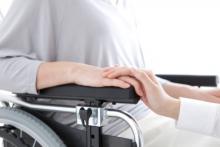 Spinal Cord Injuries Increasing in Seniors
The rate of traumatic spinal cord injuries is rising sharply among older people, with the leading cause appearing to be falls, according to a new study from Johns Hopkins.
In fact, the number-one cause of spinal cord injuries overall no longer appears to be motor vehicle crashes, but falls. The injuries suffered in these accidents range from temporary numbness to paralysis. Researchers said their findings indicated that efforts to prevent falls among older people could significantly reduce the number of spinal cord injuries.
The findings were published in the Journal of Neurotrauma.
"We have demonstrated how costly traumatic spinal cord injury is and how lethal and disabling it can be among older people," said study leader Shalini Selvarajah, M.D., M.P.H., a postdoctoral surgical research fellow at the Johns Hopkins University School of Medicine. "It's an area that is ripe for prevention."
For the study, the researchers looked at a nationally representative sample of 43,137 adults treated in hospital emergency rooms for spinal cord injury in the United States between 2007 and 2009. The number of treatments for people aged 18 to 64 dropped from 52.3 per million in 2007 to 49.9 per million in 2009.
But the incidence per million in those 65 and older increased from 79.4 in 2007 to 87.7 in 2009. Falls were the leading cause of traumatic spinal cord injury over the three-year study period (41.5 percent), followed by motor vehicle crashes (35.5 percent).
A traumatic spinal cord injury can have deadly consequences: the investigators said older adults with such injuries are four times likelier than younger people to die in the emergency room and six times likelier to die during a hospital stay.
Falls may have replaced motor vehicle crashes as the number one cause of traumatic spinal cord injuries because airbags and seat belts help passengers to survive auto accidents.
The financial consequences of falls is substantial: From 2007 to 2009, emergency-room charges for traumatic spinal cord patients totaled $1.6 billion. And over that time period, costs increased 20 percent.
"With so much emphasis on trying to reduce health care costs right now, this is another reason why preventing the injury altogether is so vital," Selvarajah said.
A recent campaign by the National Institutes of Health is funding the search for better ways to prevent falls that lead to traumatic brain injury in the elderly.