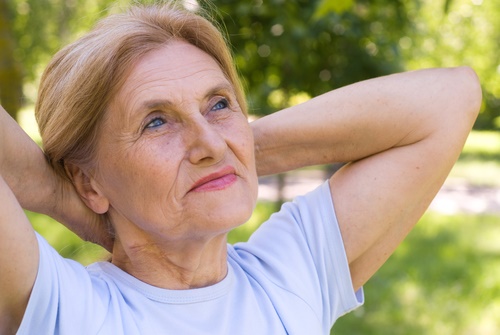 Medical Care
Senior Health
Spinal Surgery Can Help Patients Over 80
Patients over 80 can still benefit from spinal surgery, according to a new study.
The finding has broad significance, since the U.S. population age 80 and older is increasing rapidly, with a jump of 22 percent between 2000 and 2010. Along with that goes an increase in the number of patients with acute spinal conditions.
The study, which appears in Journal of Bone & Joint Surgery (JBJS), found significant benefit from surgical treatment for lumbar spinal stenosis, caused by the compression of nerves, among patients over 80. The benefit of the treatment was the same whether it was accompanied by degenerative spondylolisthesis—debilitating spinal conditions causing leg and back pain, numbness and weakness.
According to a news release from the American Academy of Orthopaedic Surgeons (AAOS), there was no higher mortality for patients age 80 and older who underwent an operation when compared to patients younger than age 80.
For the study, researchers looked at data from Spine Patient Outcomes Research Trial (SPORT) for 105 patients, age 80 and older, and 1,130 patients younger than age 80 with lumbar stenosis alone or combined with degenerative spondylolisthesis.
Fifty-eight (55.2 percent) of the patients who were at least 80 years old had undergone surgery – either a spinal fusion (arthrodesis) or a laminectomy, which is the removal of bone spurs, bone and ligaments — as did 749 (66.3 percent) of the patients under age 80, the AAOS news release said. At baseline, according to the news release, patients age 80 and older had a higher prevalence of hypertension, heart disease, osteoporosis and joint problems, but a lower Body Mass Index, and a lower prevalence of depression and smoking.
Over a four-year followup, patients who were at least 80 and had undergone surgery had significantly greater improvement as opposed to patients who had nonsurgical treatments.
The benefits of surgery in patients at least 80 years of age were similar to those in younger patients, except for the outcome measures of pain and physical function, which were higher in the under age 80 group.
"This study demonstrates that surgery for the treatment of lumbar stenosis and degenerative spondylolisthesis provides significant benefit compared to nonoperative treatment in those patients over the age of 80," said lead study author Jeffrey A. Rihn, MD, an orthopaedic surgeon at the Rothman Institute and associate professor at Thomas Jefferson University Hospital in Philadelphia, Pa. "Based on the results of this study, surgery should be considered a viable treatment option for these lumbar conditions in patients older than age 80. Future studies are needed to better assess the cost-effectiveness of surgery in this patient population."