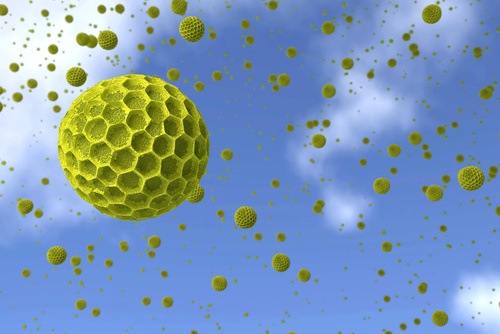 Spring Allergies: 6 Tips to Stop The Sneezing
The arrival of spring may bring warmer weather, but that warm, dry breeze also carries pollen. And for the more than 50 million Americans who suffer from allergies, that means it is time to stock up on tissues and allergy medicine. Unfortunately, this spring it's not just pollen that has us sneezing. "We are already seeing more intense mold-related allergy symptoms this spring, especially itchy, watery eyes," says Bela B. Faltay, MD, Chief of Service, Allergy, Akron General Health System, in Akron, Ohio. "This is likely due to the volume of snow that has made the ground very moist."
"The late onset of warm weather causes the different species of trees to pollinate at the same time rather than in a gradual sequence," Faltay explains. "Much like last year, it will also increase the overlap between the tree and grass seasons. For patients allergic to both tree and grass, this can be much more intense. Typically grass allergy season occurs later in the spring and into early summer. But if the weather remains cool and wet, it may extend the grass season."
If you are an allergy sufferer, and all too familiar with the symptoms of sneezing, runny nose and watery eyes, Faltay offers these 6 quick tips to help find relief:
Be prepared. Start over-the-counter and prescription preventative allergy medicines early to reduce or even prevent allergy symptoms.
Break out your shades. Wear sunglasses when outdoors to minimize the amount of pollen getting in your eyes.
Turn on the air. Close your windows and turn on the air conditioner (or heater, depending on weather conditions) at home and in the car.
Know the pollen count. Limit time outdoors on high pollen days.
Scrub up. Wash your hair after spending time outdoors.
Get electric. Use your clothes dryer – don't hang clothes outdoors to dry.
Faltay recommends that you visit your physician if over-the-counter allergy medicine is not relieving your symptoms, or if you have to take them on a prolonged basis for relief.