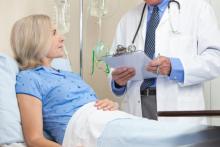 Statins May Reduce Delirium in Hospital Patients
The use of statins for critically ill patients may help prevent delirium, a new study shows.
The findings, by British researchers, were published in the American Journal of Respiratory and Critical Care Medicine.
Of the 470 patients included in the study, 151 received statins the evening before being admitted to the hospital. They were given only to patients who had been given statins, blood-thinning medicines, in the past.
After adjusting for the participants' age, gender and the severity of their illness, the researchers found that statins given the evening before admission were linked with a significantly lower risk of delirium, and a reduction in serum C-reactive protein (CRP), which indicates systemic inflammation.,
The authors said that the findings were consistent with research that showed delirium was linked with inflammation of the brain.
"Our findings suggest that statin treatment should be continued to help prevent delirium in critically ill patients who received statins before being admitted," said lead author Valery J. Page, MB< ChB, of Watford General Hospital.
Page said further research was being conducted.