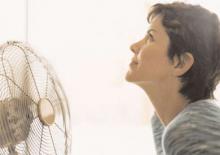 Successful Approaches to Stopping HRT
Many women will try to stop using hormone pills and patches intended to control menopausal symptoms but fail because the symptoms return, according to Katherine Newton, PhD at the University of Washington and colleagues. The team's article, published online in the January 20th 2014 issue of Journal of Women's Health. The researchers identified key characteristics of hormone therapy cessation that can increase the likelihood of success.
The authors wrote: "When asked whether they decided to stop pills and patches on their own or because of advice from someone else, 44% of women reported deciding to stop HRT because of a doctor's advice, and 67% decided to quit on their own. (Responses sum to less than 100% because more than one response category was allowed.)"
The team pinpointed the following reasons for success in quitting HRT:
*Quitting Cold Turkey: Abrupt cessation was used by 61% who succeeded in quitting vs. 51% of those who did not succeed.
*Tolerable Symptoms: Women who succeeded were less bothered by return of symptoms than were the women who failed to quit. Overall, 75% of women reported a return of hot flashes, which did not differ by success at HRT discontinuation. However, when compared to women who succeeded, women who failed at discontinuation more frequently reported trouble sleeping (74% vs. 57%), headaches (32% vs. 23%), mood swings or depression (51% vs. 34%), and fatigue (51% vs. 38%).
*Learning to Cope: The greatest difference among strategies used by women who succeeded in HRT discontinuation and those who did not was a positive response to the survey item "learned to cope with it" (82% vs. 60%, p<0.0001) The proportion reporting making behavioral changes, such as using a fan or dressing in layers, was also higher among women who successfully discontinued HRT than among those who did not (50% vs. 58%, p<0.05), as was the proportion reporting using herbal medicine or naturopathic treatments (26% vs. 20%, p<0.05).
A release from the publisher quotes Editor-in-Chief Susan G. Kornstein as saying, "It is important that we better understand experiences, practices, and attitudes related to discontinuation of hormone therapy in the post-Women's Health Initiative (WHI) era."