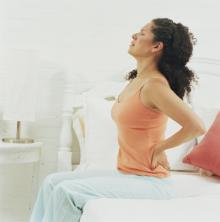 Back Pain
A Surgeon's Tips for Back Pain Treatment
Debilitating back pain is the second most common reason Americans visit the doctor. But who should you see when you have back pain and what do you ask?
Having treated thousands of patients, Dr. Burak Ozgur, a combined ortho-neuro spine fellowship-trained double board certified neurosurgeon based in Newport Beach, California, shares his thoughts.
1. The spine is too delicate to go to "just anyone." – Make sure you research the physician and determine if he or she has a specialty in spine surgery.
There are sites that rate doctors, but they are very subjective, cautions Dr. Ozgur. Word of mouth is probably the best way to start out, so get recommendations from co-workers, neighbors, and family members, and then look up the doctor on the Internet and read about the surgeon's qualifications and specialties.
2. Get a firm diagnosis so you know exactly what you are dealing with.
"Spine pain is sometimes very difficult to diagnose," says Dr. Ozgur. Is it coming from a disk, bone, a disease like scoliosis? A lot of times back pain is due to (or causes) a whole spectrum of problems that are linked, such as knee, hip, and spine pain. A patient should never feel rushed into a course of action. You deserve to have a clear understanding of what is going on and a full explanation of why each test is being ordered.
3.Make sure you have exhausted conservative treatment options before considering surgery.
"For some people, surgery is the blessing they have been waiting for," says Dr. Ozgur. But he advises trying pain management, physical therapy, acupuncture, or chiropractic treatment before jumping into surgery. "Sometimes things resolve in time," points out Dr. Ozgur, and there are risks with surgery.
4. Get a second opinion and even a third opinion. The spine is too critical to not do your homework.
Don't be afraid to ask every question that crosses your mind: How many of these specific surgeries have you done? Have you ever had complications with this surgery? What is your training and expertise in this particular area? "Don't leave anything on the table," says Dr. Ozgur. "This is your health, your spine." You can even ask "Who would you go to if you had this type of issue." Write down everything you want to ask or clarify and write down the answers as well. Bring a spouse or friend as a back-up to speak for you if you don't feel up to asking all your questions, or just as a support person who can discuss the options with you afterwards.
5. Find out if you are you a candidate for state of the art minimally invasive spine surgery.
"Most people still have traditional surgery," says Dr. Ozgur. "But we can get the same or better outcomes with smaller incisions and using a scope that magnifies and illuminates the critical area. Minimally invasive surgery tries to preserve the tissues around the spine without destroying them on the way in, which can happen in traditional surgery. When you preserve tissues patients have less to recover from, less pain and less need for pain meds. This makes a tremendous difference in recovery."
Patients are up and walking much faster than with traditional surgery so there is less risk of complications like pneumonia and blood clots in legs. They are back to work faster, which is usually one of the biggest concerns of surgery: "How long will I be off work?"
Minimally invasive surgery involves newer techniques that were developed in the mid 1990s and beyond. Some older surgeons don't have the expertise, which requires more intense training. Make sure your doctor has years of experience with a proven track record.
Judy Kirkwood writes articles for print and web publications – national, regional, and local; is a contributing writer to Simply the Best and Boca Raton Observer magazines in South Florida; and plays on the beach and in the pool year-round. Visit her on Facebook @JudysFlorida and please visit www.JudysFlorida.com. 
Judy Kirkwood is ThirdAge.com's Contributing Writer and Forum Director.