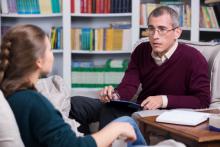 Pain Management
Talk Therapy Best for Chronic Pain?
Psychological treatment often provides better relief for chronic pain than prescription drugs or surgery, according to a review published by the American Psychological Association. However, it's used much less frequently.
"Chronic pain affects 116 million American adults, making it more prevalent than heart disease, diabetes and cancer combined, and traditional medical approaches are inadequate," said lead author Mark P. Jensen, PhD, of the Department of Rehabilitation Medicine at the University of Washington.
Jensen said that the review, published in the January/February issue of the journal American Psychologist, "highlights the key role that psychologists have had — and continue to have — in the understanding and effective treatment of chronic pain." The review is the lead article in the issue, which focuses on the treatment of chronic pain.
"The more we learn, the more the field of chronic pain treatment recognizes the critical contribution of psychologists," said Jensen. "This may be due to the fact that psychologists' expertise about the brain, behavior and their interaction is at the heart of both the problem of and the solution to chronic pain."
Articles in the special issue describe how psychology addresses racial and ethnic disparities in the assessment and treatment of chronic pain, persistent pain in older adults and family influences on children's chronic pain. Also discussed is a range of successful treatment approaches for chronic pain, including cognitive behavioral therapy, acceptance and commitment therapy, mindfulness and hypnosis.
Other articles examine how interdisciplinary management of chronic pain is most likely to lead to effective outcomes when health care teams include psychologists and coordinate services.