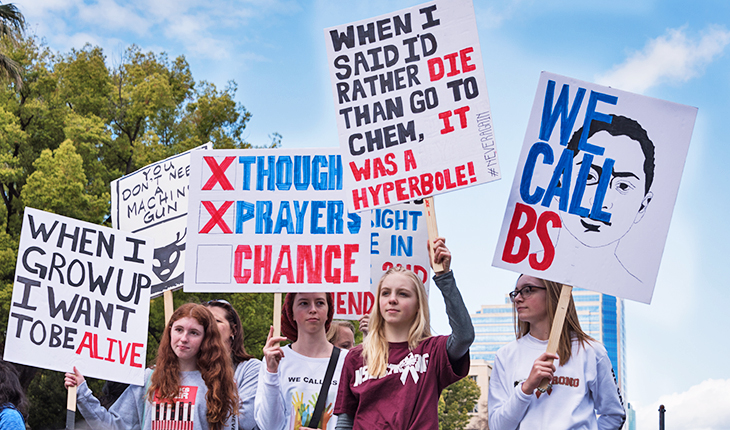 Gun Violence in America: A Complicated History
Two weeks ago, millions of people around the United States and abroad participated in the March For Our Lives to call for policies that promote greater gun control in the hopes of putting an end of mass shootings.
March for our lives came as a direct response to the shooting which took 17 lives last month, at Marjory Stoneman Douglas High School. Student survivors of that shooting came together to form the #neveragain movement – and have succeeded in keeping the issue of gun violence and school shootings front and center in an often fleeting + forgetful news cycle. These students are propelling the conversation forward – and succeeding where many others have not before them. Fed up with the ineptitude + inaction of elected officials on gun violence and gun control – they are channeling frustration into momentum: the goal after this history-making series of demonstrations is to galvanize the youth vote – and rout politicians that refuse to act on this epidemic of gun violence.
We have compiled a historical timeline about guns, in order to understand the how we have come to the point we are at today – from the first mention of gunpowder in China, 900 AD on through to the 2018 gun reform legislation recently passed by Florida governor, Rick Scott, in response to the Parkland, Florida massacre. In order to succeed, we need to understand.
.

.
.
.
.
.