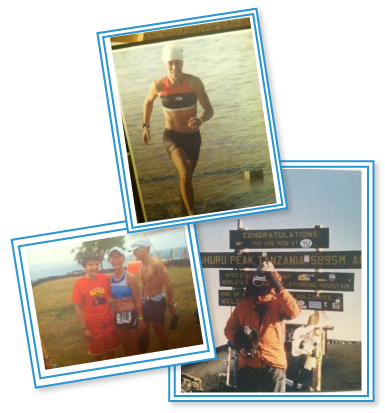 Exercise
ThirdAge Health Close-Up: Becoming a Triathlete at 50 After Surviving a Devastating Auto Accident
Ten years ago Maureen Kemeny's SUV was hit by a tourist bus. The now 55-year-old says, "Luckily my children who were 7 and 12 at the time weren't with me. The bus hit exactly where one of them would have been sitting!"
Maureen suffered severe herniated discs in her neck and lower back. "Pain was in my neck, down my back and radiated down my arm and hand. I had lots of muscle damage and couldn't even move my fingers," she says.
She consulted three neurosurgeons in the Buffalo area where she lives. All advised she undergo surgery to put a plate in her neck. The plate would leave Maureen's neck rigid, preventing her from performing activities she had been avidly pursuing including swimming, biking and running.
At the time Maureen, was working as a school psychological consultant. But she couldn't imagine a world without the ability to keep it moving. "After an infant daughter died in 1993 due to a doctor's negligence – he lost his medical license as a result – exercise, especially running, became my therapy, my everything. I'd gone to grief counseling but the only thing that brought relief was running. If I ran hard enough, all I could focus on was breathing. As I breathed, I momentarily forgot about the emotional pain. In time the periods without that pain became longer. Running gave me that."
That's why Maureen felt that surgery wasn't an option. She got a referral to a world renowned neurologist and neurosurgeon at the Cleveland Clinic in Ohio, a three and a half hour drive from her home. There, finally, she and her husband were introduced to a treatment option that didn't involve an operation.
"The doctor told me 'If you can live with the pain for a while, your damaged discs might heal. If not, you can have the surgery,'" Maureen recalls.
Waiting it out wouldn't cause further injury, but most people in this situation opt for an immediate operation because the pain is, as Maureen was about to discover, so intense.
She returned home and indeed, what followed were five excruciating weeks, mostly on her back. "It felt like someone had a saw and was sawing away at me. I remember saying, 'Oh my God, just take my arm off if it will stop the pain!'"
Her husband and parents did the household chores and childrearing as Maureen took what she terms "a sabbatical from life." She adds, "I couldn't lie down flat – I slept in a recliner chair."
An initial improvement gave way to a frustrating plateau. But Maureen would think about how much she needed exercise in her life. "I felt patience and persistence were the keys during those five long, hard weeks," she says.
The turning point was a session with an acupuncturist six weeks after the accident. "For the first time there was an obvious reduction of pain in my arm and I could move my tricep muscle a little."
There followed tri-weekly acupuncture and physical therapy. The latter treatment began with neck stretches to relieve nerve pressure, and gradually moved to exercises with a resistance band, then weights, strength training, and other modalities including reflexology and chiropractic.
Maureen says fervently, "My goal was always to reach 100 percent of where I'd been before the accident. I was determined to run marathons."
She did indeed return to sports – with a vengeance. Five years after being hit by the bus she had climbed Mt. Kilimanjaro, run the Boston Marathon, and completed her first Ironman! These feats weren't accomplished pain free, however. "For instance I had a lot of neck pain when I climbed Kili," Maureen says. "But I have made a lifelong commitment to smart strength training."
Now a health and fitness coach (http://maureenkemeny.com/ ), in recent years she has faced other challenges: celiac disease and adrenal fatigue. She deals with these conditions through nutrition, sleep, and probiotics. Maureen lives by the credo she teaches her clients, which is to meet adversity with determination.
"It's not necessary to get to the point of running a marathon or even one mile," she insists. Rather, Maureen's message is to trust in ourselves and in our ability to heal and persevere at any age. "As they age, a lot of people start limiting themselves and put barriers up. We need to be encouraged to get comfortable with being uncomfortable, be patient and persevere, and believe that our bodies can heal."