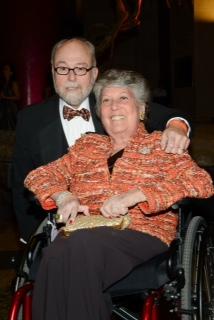 ThirdAge Health Close-Up: Living With Lupus
By Sondra Forsyth
Susan Golick celebrated her 67th birthday on February 6th 2014, more than four decades after she learned at the age of 23 that she had lupus, a disabling autoimmune disorder that at the time was taking the lives of 60% of patients within three years of diagnosis. Much of the credit for the fact that the prognosis is vastly better today for people who have systemic lupus erythematosus goes to Susan, the determined and dynamic founder of the S.L.E. Lupus Foundation in New York City. The organization expanded to create the national Lupus Research Institute. She has increased awareness among the medical community to speed diagnoses and, along with her father until he passed away at 101, has worked with the organizations to raise $40 million to support more than 125 novel research efforts and even more in federal grants.
"I had never heard of the disease and I couldn't even pronounce it," Susan recalls with an infectious laugh. "I had terrible joint pain, fatigue, and weakness and I was trying to figure out how to live with it. There was very little known about lupus back then and there were a lot of old wives' tales."
That void was what spurred Susan, a self-described "realistic optimist", to brainstorm with her parents and a group of afflicted families about ways to find a cure. They gathered in her Manhattan apartment in 1970 and after some discussion, her mother came up with the idea that her father could spearhead fund-raising efforts. He enthusiastically agreed. Yet although Susan was heartened by this vote of confidence, she felt that any organization they would create should also focus on "helping people not to feel alone." With that, the dual mission of the nascent foundation was forged. The Lupus Research Institute is the only nonprofit in the country dedicated solely to working toward novel discoveries about lupus. Susan has also seen her dream of creating support groups and information services for patients come true.
"We offer a range of programs including telephone counseling and a camp for kids with lupus," she says. "A social worker fields phone calls and makes sure people get correct referrals because an early diagnosis and the care of a rheumatologist are critical to having the best possible outcome. I was a fourth grade teacher at a Manhattan private school when I got sick but I left that job to devote myself full-time to the organization."
The switch from teaching to running her non-profit was not the only big change in Susan's life after her diagnosis. Not long after she found out she had lupus, she was divorced from her first husband. "I think there was no way he could take what was going on," she said. "I was fortunate that the disease never affected my kidneys but I have heart issues and some trouble with cognition where I can't find the right words. Also, I can't go out in the sun and I experience spells of fatigue. I'm just out for the count."
Beyond that, she has problems with circulation in her legs so her doctor had advised her not to get pregnant. He was afraid she might have to have a foot amputated if there were complications. In spite of all that, though, Susan didn't let her illness keep her from finding lasting love.
"During the early years of the foundation, I was having coffee with my dentist who was also my friend," she recalls. "His associate, Alan Wasserman, came by. He and I started talking and I realized that I liked him. So later I called my friend to register my interest. I asked whether Alan was married and the answer was that he had been separated for three weeks. That was it. We've been married for 35 years and he's on our board. He knew that I was sick and on medications but that didn't stop him from going forward with our relationship."
The drugs Susan takes are steroids to control the inflammation. Unfortunately, though, a common side effect of the drugs is osteoporosis. Susan has had a knee replacement, shoulder surgery, and elbow surgery. The most serious problem has been a hip replacement during which she contracted MRSA. After repeat operations and the rejection of a temporary device, the infection is now under control with medication but Susan is in a wheelchair. Even so, with her characteristic resolve she continues to work with the foundation. Mostly, she telecommutes but she does attend the special events.
"I'm in physical therapy and I can take already steps with a walker," she says. Then, displaying the same courage that has gotten her this far, she announces firmly that she holds out hope that she will walk unaided again one day. In fact, the message she wants to convey to anyone with lupus and to their loved ones is that there is hope on all counts. "Lupus is no longer a death sentence," she says. "But that's not enough. We won't stop until, as our slogan puts it, there is 'Life Without Lupus'."
A major goal of the Lupus Research Institute is to conduct more clinical trials. If you have the disease, please consider volunteering. Healthy people, especially relatives of lupus patients who might help in the search for a genetic connection, are also encouraged to volunteer as controls. Please visit the Lupus Research Institute or call 1-800-74LUPUS (58787). You can also watch a video about the work of the institute.
Patients and loved ones can get information and referrals by visiting S.L.E. Lupus Foundation or calling 1-800-74LUPUS (58787).
Please also consider helping the cause with a tax-deductible donation. You can donate online here.
Sondra Forsyth is Co-Editor-in-Chief of ThirdAge.com. She is a National Magazine Award winner with scores of major magazine bylines and twelve books to her credit. Her most recent book is "Candida Cleanse: The 21-Day Diet to Beat Yeast and Feel Your Best". Sondra was Executive Editor at "Ladies' Home Journal," Features Editor at "Cosmopolitan," and Articles Editor at "Bride's." A former ballerina, she founded Ballet Ambassadors, an arts-in-education company in New York City, and served as Artistic Director for 16 years.