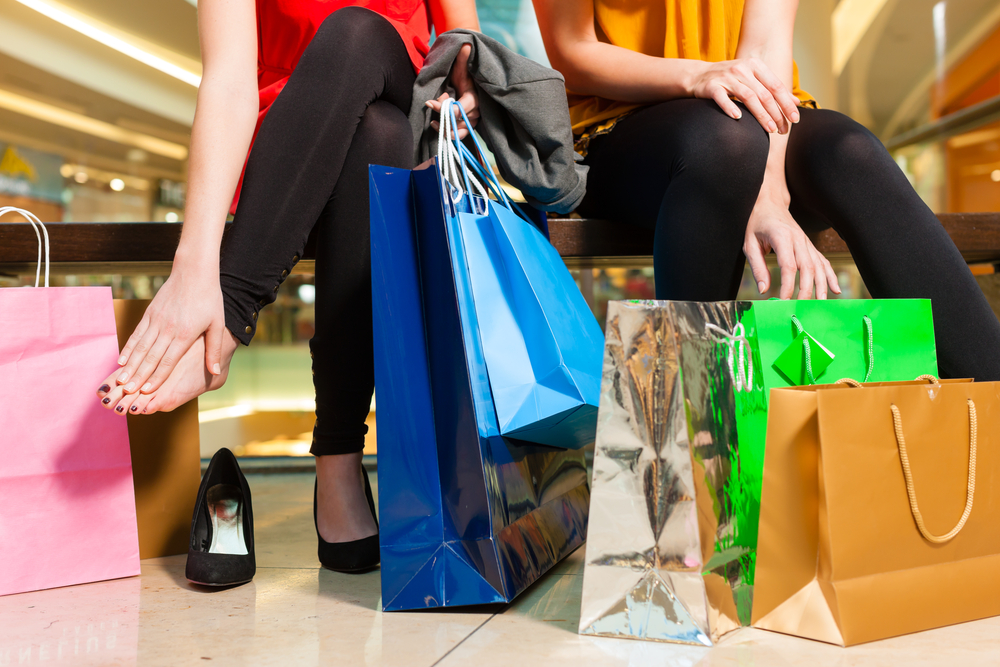 Foot Care
TLC for Holiday Feet
The holiday season is festive and fun, but it can also be extremely tough on your feet. Shopping for hours on end, standing in long checkout lines, attending holiday parties, cooking, traveling to friends and relatives, lugging packages to the post office, and all the extra running around takes its toll. And for the 4.6 million Americans who work in retail, this time of year also means long shifts on the job, standing up stocking shelves or at the register ringing up customers. Wearing fashionable boots, heels, and other non-sensible footwear also causes tired, achy, cranky, sore and swollen feet.  Then there's dancing the night away at holiday parties that put feet through their paces.
Caring for your feet so they can carry you through all those seasonal celebrations and chores is important. It is possible to shop without dropping and enjoy the holidays more with less pain. Lou Paradise, president and chief of research at Topical BioMedics, the makers of Topricin Pain Relief and Healing Cream, offers tips to keep feet happy and healthy so you can get through the season without suffering.
Treat Feet Right
When shopping or doing errands, leave heels at home and wear comfortable shoes. Athletic shoes, flats, or low-heeled boots with good arch support and padded soles help increase comfort and prevent ankle and foot pain that results from wearing heels. Also, try these foot soothing tips:
·      Use a shoe stretcher if shoes feel tight.
·      Distribute the weight of shopping bags evenly on both sides of your body.
·      Lighten your load by making frequent trips to the car to drop off packages.
·      Whenever possible use a shopping cart to avoid stressing your back with heavy packages.
·      Ask for assistance lifting heavy objects.
·      When walking, keep your back straight and relaxed; try not to slouch as it shifts your weight forward and puts you off balance.
·      Women should opt for carrying a small backpack rather than a heavy purse.
·      Keep your energy up by taking frequent breaks to enjoy a snack, stay hydrated by drinking plenty of water, and rest your feet.
·      During your break, elevate your feet to help reduce any swelling.
·      Before heading out for a heavy-duty day of holiday shopping, hours of travel, or a night on the town, massage Topricin Foot Therapy Cream onto legs, ankles, feet and all around your knees.
·      To maximize the body's healing and repairing process and keep yourself comfortable, massage again when you return home.
·      After a long, punishing day on your feet, take off your shoes and exercise your feet by raising, pointing and curling your toes for five seconds. Repeat 10 times.
·      Rotating your ankles can also help relax feet. Cup your heel and turn each ankle slowly five times to loosen ankle joints.
·      Soak your feet in a warm Epsom salt bath.
·      Running your feet over a reflexology roller, golf ball, or tennis ball after applying Topricin gives feet a great massage.
·      See your doctor or podiatrist immediately if you have concerns about any foot issues.
About Topical BioMedics: 20 years in business and a Certified B Corporation, Topical BioMedics is a research and development leader in topical patented natural biomedicines for pain relief. The company's flagship product, Topricin® Pain Relief and Healing Cream, was introduced in 1994 and is now a leading natural therapeutic brand. A combination biomedicine formula, Topricin has been awarded a patent for the treatment of pain associated with fibromyalgia and neuropathy, and was listed among the Top 100 Green Products of 2012 by Healthy Holistic Living. For more information visit http://www.topricin.com.