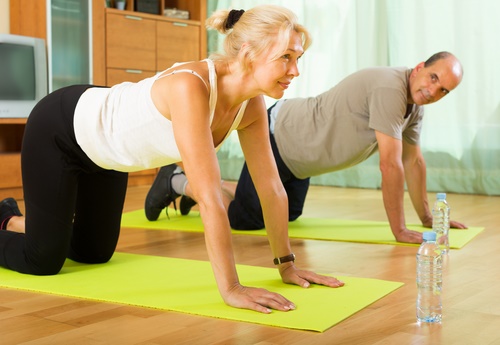 Exercise
The Ultimate Get-Fit-For-Free Plan
Everyone knows that it's healthy – even lifesaving – to get and stay fit, but there can be a host of obstacles in the way.  Getting fit can cost time, money and can even be socially awkward for older people who might not feel at home in trendy gyms. And while the coming winter may provide great opportunities for brisk, snowy walks, you'll also find yourself staying at home if the weather gets too severe.
A good alternative: The G04Life program from the National Institute on Aging. Their site (click here) can help you get started on a fitness program that can take you through winter – and all year round. Plus, by recording your progress in Go4Life's easy-to-fill-out forms, you can keep track of your progress.
Getting Started
To begin with, click here to find out how to start a personalized activity log. A downloadable form makes it easy. To see what exercises you might like to try, click here. (As always, please check with your doctor before starting any exercise program.)
Setting Goals
The Go4Life program helps participants set both short- and long-term goals; click here to find out more. Keeping track of your progress can be a good motivator.
Make a Plan
You don't need a trainer to set up a program for you.  This exercise and physical activity plan (click here) can help you figure out exactly what you'd like to be doing for your health.
Over the Long Haul
If you want to get a concrete idea of how much you're progressing, monthly tests can tell you. Click here to see the goals you can set for yourself.
For more free resources from Go4Life, including an exercise DVD, click here.