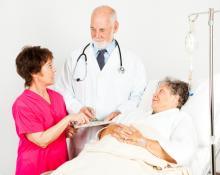 Video-Game Technique May Help Avoid Patients' Falls
A device using technology similar to that found in video games may eventually help health care practitioners monitor and even prevent falls among hospital patients.
Between 700,000 and 1 million people each year fall in U.S. hospitals, according to the Agency for Healthcare Research and Quality. All patients are at higher risk of falls because they are sick or injured. Falls are especially serious for older patients.
"Technology that quickly detects falls and alerts health professionals can improve patient care and help in the diagnosis of injuries," said Marilyn Rantz, PhD, RN, study leader and a professor in the University of Missouri's Sinclair School of Nursing and the MU School of Medicine.
"By seeing what happened before a fall, we can better understand what caused it. The more we know about what causes falls, the more effectively we can prevent them."
During the past several years, the investigators explored a number of technologies, including Doppler radar and sound sensors. Those two methods can detect falls but not the events leading up to the fall.
But the most effective method, they have found, is video-game "motion-capture" technology. The system portrays people as three-dimensional silhouettes, protecting privacy. It sends a pattern of infrared light into a room and makes a 3-D map, showing everything in the room.
If the system detects a person on the floor, it automatically reviews the preceding events as the person moved to the floor. To distinguish a fall from a benign movement like bending to tie a shoelace, the researchers devised a way for the system to calculate the probability that the changes represent a fall.
In the study, the investigators installed a motion-capture device in each of six patient rooms at University Hospital in Columbia, Mo. The devices collected data continuously. Although no actual falls were recorded over the eight months of the study, actors simulated 50 falls. That showed researchers how the technology can collect information.
The research article covers the first eight months of the study. During that time, the sensors did not record any patient falls, but stunt actors simulated 50 falls in the rooms, providing more data.
"We believe the technology is promising because it accurately identified falls and may eventually help prevent falls," said Rantz. "We are now in the process of installing the sensors in more patient rooms to learn more about its effectiveness."