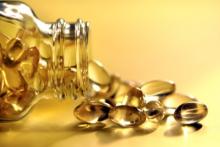 Vitamin D Can Help Fibro Patients
Fibromyalgia patients, who suffer chronic pain, depression and fatigue, may show improvement in some areas with a Vitamin D supplement, according to new research.
The investigators, whose study was published in the journal Pain, said that taking the supplements could be a cost-effective way to treat the condition.
In addition to pain and fatigue, individuals diagnosed with FMS may experience sleep disorders, morning stiffness, poor concentration, and occasionally mild-to-severe anxiety or depression. The condition can have a significant impact on the patient's quality of life. There is no cure, and no treatment will address all of the symptoms.
In their study of fibromyalgia sufferers, investigators focused on calcifediol, a "prehormone" in the liver. It is converted to calcitrol, the active form of vitamin D. The levels of calcifediol in blood is the best indicator of vitamin D levels.
"We therefore set out to determine whether raising the calcifediol levels in these patients would alleviate pain and cause a general improvement, " said lead investigator Florian Wepner, MD, of the Orthopedic Hospital in Vienna, AustriaOrthopaedic Hospital, Speising, Vienna, Austria.
The trial analyzed results from 30 female fibromyalgia patients with low vitamin D levels. Investigators, using vitamin D oral supplements, raised the blood levels of one group of participants over a period of weeks, testing the levels at 25 weeks, when they stopped the treatment.
Between the first and 25th weeks, women who took the Vitamin D supplement showed an improvement in physical functioning; the placebo group stayed the same. The positive effects persisted even six months after treatment was stopped. The subjects who were treated also showed improvement in the area of morning fatigue. But there was no change in symptoms of depression or anxiety.
"We believe that the data are promising," Wepner said. "FMS is a very extensive symptom complex that cannot be explained by a vitamin D deficiency alone. However, vitamin D supplementation may be regarded as a relatively safe…treatment for FMS patients and an extremely cost-effective alternative or adjunct" to other forms of treatment.
He urged health-care practitioners to regulary monitor Vitamin D levels in fibromyalgia patients, especially in the winter, and to raise them appropriately.