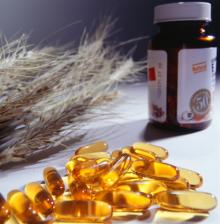 Men's Health
Vitamin E, Selenium Linked to Increased Prostate Cancer Risk
Selenium or Vitamin E can sharply increase the risk of prostate cancer, according to a new study from the Fred Hutchinson Cancer Center.
Taking Vitamin E can raise the chances of getting prostate cancer by as much as 63 percent in some men. Taking selenium can double the risk of getting a high-grade form of the same illness.
The findings, published in the Journal of the National Cancer Institute, are the latest to show that supplements don't always have a positive effect.
In the new study, the researchers initially assumed that supplementation with selenium might lower prostate cancer risk in men with low levels of the trace micronutrient, said Dr. Alan Kristal, the lead author of the study.
"But we found there's no benefit for anyone," Kristal said. "All we did find was a heightened risk. I'm now willing to go on the record and say that there is no evidence that high doses of supplements of anything are good for you."
For the study, researchers analyzed data from a study that included more than 35,000 men. The Selenium and Vitamin E Cancer Prevention Trial (SELECT) began in 2001 and was originally designed to last 12 years, but it was halted early when it looked like vitamin E might be increasing the risk of cancer. The study volunteers were randomly assigned to one of four groups: selenium and vitamin E, selenium alone, vitamin E alone or placebo.
In the new analysis of the SELECT data, researchers examined the impact of vitamin E and selenium in a subset of the original group. Kristal and his colleagues found that supplementation with vitamin E alone raised the risk of prostate cancer by 63 percent in men who had low levels of selenium at the beginning of the study. Further, selenium supplementation raised the risk of a high grade cancer by 91 percent in men who had adequate levels of the nutrient at the outset.
Previous studies of other dietary supplements have reached a similar conclusion: that the supplements may harm instead of help.
In 1996 researchers found that beta carotene and vitamin A supplementation not only didn't prevent lung cancer, but also increased the risk of its development. Last year, Kristal found that omega-3 fatty acids increased the risk of ggressive prostate cancer.
He said that instead of taking dietary supplements, the best way to stay healthy is to eat healthy. "The micronutrients in food are at a level that you need," he said. "What I learned is that you need to regard these as you would any other drug we study."