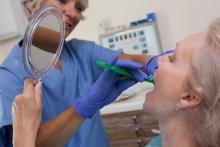 A Warning About Dental Restorations
Poorly-made dental restorations (veneers, crowns, inlays) can cause patients discomfort and even some health problems, but, according to dental-industry experts, most patients aren't aware of where their dental restorations are coming from, what materials are used in the process and whether they are getting the restorations from a reliable source.
Some patients believe their restorations are made in the dental office. But many times, that's simply not the case. Most dentists do not make their own restorations, but work with laboratories and technicians, either in the U.S. or abroad.
And most state dental-practice rules don't regulate or set standards for the operation of dental laboratories or dental technicians. This lack of regulation can increase health-related issues and lower professionial standards.
According to the National Association of Dental Laboratories, only four states in the U.S. require either certification or continuing education for those who create dental restorations. Dental laboratories in more than 40 states in the U.S. remain unregulated.
Furthermore, almost 38 percent of actual restorations are manufactured overseas. According to the NADL, there are 42 countries that have foreign dental laboratories registered with the federal Food and Drug Administration (FDA). In their home countries, these laboratories may not be held to the same scrutiny as U.S. laboratories.
The National Association of Dental Laboratories (NADL) hopes to create patient and dentist awareness of these facts through its "What's in Your Mouth?" program, which encourages patients to make informed decisions about their dental needs. They suggest patients focus on the following four questions:
1. What is a Certified Dental Technician?
The Certified Dental Technician (CDT) designation demonstrates a mastery of the knowledge and applied skills needed in dental technology. The National Board for Certification in Dental Laboratory Technology (NBC) certifies all CDTs. Individuals undergo a series of evaluations and tests before earning certification. Once a CDT passes all tests, he or she must complete 12 hours of continuing education every year to hone his or her skills and to retain certification status.
2. What is a Certified Dental Laboratory?
Certified Dental Laboratories (CDLs) meet specific standards relating to quality assurance, safety and business and manufacturing practices. The NBC certifies all CDLs. By earning and maintaining the CDL designation, a dental laboratory is monitoring and attempting to improve the quality and efficiency of their services and facilities.
3. Can patients go directly to a CDT or a CDL for restorations?
According to most state laws, a laboratory can accept prescriptions only from a licensed dentist; however, a patient can find a CDT or CDL in his or her area and request the contact information of a dentist who works with that laboratory.
4. How should patients make sure their dentists use a CDT and CDL?
Patients should ask their dentists where their restorations are being made and ask if the laboratories used are CDLs or if they employ CDTs. Patients should have access to their personal dental records that outline the patient contact materials that are used in their restorations and also in what country such finished restorations are manufactured.
For more information, please visit the NADL website's Public Awareness link at www.nadl.org.