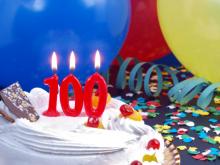 Aging Well
We Feel Younger Than Our Years!
Good news about Boomers and Beyond! The ninth annual 100@100 survey by UnitedHealthcare reported that Americans at age 65 say they feel 55 on average. Not only that, but our hardy centenarians say they feel as though they are 83 "years young" on average, and more than half live independently without the support of a caregiver to help them with their daily activities.
The very best news, though, is that more than a third of the people who have reached the age of 100 say they feel "blessed" and "happy" to have lived so long, while not even one of them reports feeling sad or burdened and a mere 3 percent say they feel lonely.
For the second year in a row, the survey polled 65-year-olds baby in addition to 100-year-olds in order to examine how the attitudes and lifestyles of Americans entering their retirement years compare to those who hit that same age 35 years ago. A release from UnitedHealthcare, the nation's largest business dedicated to the health and well-being needs of Medicare beneficiaries, notes that The U.S. Census Bureau projects the centenarian population will grow to more than 600,000 by 2050. This year's 100@100 survey finds nearly 3 in 10 Boomers say they expect to hit the century mark. If their expectations hold true, there could be more than 3.6 million centenarians in 35 years' time.
For centenarians, the keys to healthy aging are staying close to friends and family (91 percent), maintaining a sense of independence (88 percent) and eating right (86 percent). Baby boomers' top three keys to healthy aging all have to do with mindset: They rank maintaining a sense of independence first (87 percent), tied with laughing and having a sense of humor. Staying close to family and friends (84 percent) comes in third for the 65-year-olds.
Both groups report actively managing their physical health. Nearly 9 in 10 see their primary care physician for an annual exam. More than 7 in 10 keep up with their vaccines, such as flu shots and shingles vaccinations and similar majorities also report getting their eyes examined regularly.
The release quotes Rhonda Randall, D.O., chief medical officer of UnitedHealthcare Retiree Solutions, as saying, "This year's 100@100 survey paints an encouraging and exciting view of longevity in the United States, which is especially significant since the number of centenarians in this country is expected to swell in the coming years. Both centenarians and baby boomers report feeling more youthful than the number of birthdays they've had, which is in part due to the proactive measures they're taking to monitor and improve their health. This is a good reminder for all Americans to take charge of their health now so that they can enjoy life for many years to come."
In addition to getting preventive care, both centenarians and baby boomers are staying active. The majority of centenarians and baby boomers say they walk or hike at least once per week. Approximately one-third of centenarians and baby boomers say they do strength-training exercises every week. Other top physical activities include indoor cardio exercise and gardening.